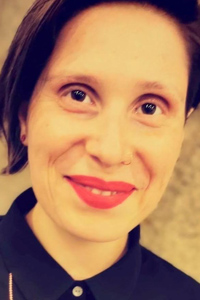 Vanessa Rotondo
Women of Inspiration
Vanessa Rotondo has contributed to several Ottawa-based community initiatives, specifically over the past three years that have led to making a measureable and positive impact in the lives of others. She has inspired so many people in her community, particularly women and young women, to make positive changes and choices for renewed health through art, food, dialogue and the sciences.
Following her 31st birthday, Vanessa Rotondo was diagnosed with an aggressive form of breast cancer. It was difficult news for her family especially since losing her father to cancer only five years prior, but she found great strength in adversity. Over the course of 2017, she overcame months of chemotherapy, radiation, surgery and Herceptin treatments, while also overcoming the profound impact of what it means to lose one's life, identity, womanhood, hair, etc. Nevertheless, she was resilient and moved to document her journey through breast cancer. Her goal was to create hope – something of value from a place of loss and darkness. She wanted to bring awareness to the impacts of conventional cancer treatments, the cancer journey, and dialogue to encourage breast cancer prevention, particularly in young women.
In the midst of her battle, Vanessa Rotondo wrote an arts project proposal and was awarded funding from the Ontario Arts Council, as the recipient of the Multi & Inter Arts Projects program, to create and exhibit her work. She exhibited "INcarcinoma: a Poetic Outline" in February 2019 at Koyman Galleries (Rag & Carbon Print Co.) and has since featured her work in Ottawa stores, cafés and at events that align with women's health and arts mandates. These include collaborations with the Canadian Cancer Society (May 2019) where she exhibited INcarcinoma and spoke to donors about the impact of their contributions; the Women in Insurance Canada Crusade Breakfast (April 2019) at the Shaw Centre, where she exhibited INcarcinoma to health care and insurance professionals who support national cancer research; the Arts House Café (October 2019) for "Pinktober, Breast Cancer Awareness Month"; and "Venus Envy" (November 2019), all to support and honour women's health initiatives.
She has also appeared on CTV Morning News (February 2019) where she shared her breast cancer story and advocacy work in order to engage the greater Ottawa audience in breast cancer prevention and mental health strategies. She established a social media platform, @theartofxpression, that continues to provide followers with health resources about alternative therapies, recipes and facts about food to inspire healthy choices.
Since recovering from cancer, Vanessa Rotondo has exemplified determination to reclaim her life, vitality, career and aspirations. In addition to working for the Federal Government as a Communications Officer, she also finds time to volunteer in several capacities. She has raised over $9,000 for the CIBC Run for the Cure (2017-2019), engaged over 60 runners to join her team (Team LoVe), and even found the strength to run the 5km race while in the midst of her radiation treatments. She has also volunteered her time to youth, whether through the Snowsuit Fund or by educating and facilitating creative arts, spoken word poetry and health and wellness workshops in Ottawa schools (2015-2019). In addition, she writes for Ottawa-based community blogs such as Apt613 (2015-2019).
Ms. Rotondo is a biologist (University of Ottawa, 2007), project manager (Carleton University, 2017), practicing multidisciplinary artist, writer, educator and facilitator. She has demonstrated exceptional resilience and grace through some of life's most difficult challenges.
Vanessa Rotondo is an inspiration to other young women and families impacted by cancer. In the midst of coping with cancer and rebuilding her life she has made time to contribute to others so that they will feel inspired to keep fighting and to make a positive difference in their own lives as well as in the lives of others.