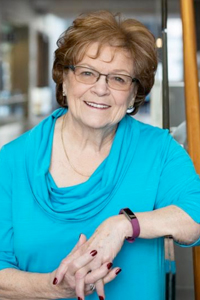 Trèva Cousineau
Lifetime Contribution
Trèva Cousineau has worked for more than 50 years in the advocacy and promotion of the Francophonie at local, provincial, national and international levels. She has assumed an advisory, coordination, and management role within several Franco-Ontarian organizations as teacher, dietitian, educational visionary and community development consultant, activist for the Francophonie, committed volunteer, French Services Coordinator, Executive Director and member of several Francophone groups including the Conseil des Affaires franco-ontariennes and the project to build the Monuments of the Francophonie in Ottawa.
A native of Timmins, Trèva Cousineau grew up in Kirkland Lake from the age of 6. Thereafter, she studied at the Académie Sainte-Marie in Haileybury. She was a school board trustee in Timmins from 1969 to 1983. This experience earned her the Chairmanship of the Consultative Group on the Management of French-Language Education (Cousineau Commission) which laid the groundwork for the creation of twelve French-language school boards in Ontario. After raising her family of six children (between 1962 and 1980) Trèva Cousineau returned to the job market. It was then that she founded a center for alcoholics and drug addicts in Timmins in 1985, before becoming Coordinator of French Services at Sudbury Algoma Hospital from 1986 to 1988.
Following her move to Ottawa, Trèva Cousineau became Executive Director of the Conseil d'éducation catholique pour les francophones de l'Ontario; Provincial President and acting Executive Director of the provincial ACFO; and, Executive Director of the Fédération nationale des conseils scolaires de langue française. She maintains her community involvement and continues to ardently advocate for the Francophonie by serving as a member on several boards and committees including the Conseil des affaires franco-ontariennes. Fully respectful of the country's two official languages, she is a member of the Advisory Council to the Minister of Education, of the Commission responsible for studying the financing of elementary and secondary education in Ontario, and of the Labour Relations Commission.
Ms. Cousineau Chaired, among other things, the Groupe consultatif sur la gestion de l'éducation en langue française, the report of which led to the creation of twelve French-language school boards in Ontario; l'Association française des councils d'études de l 'Ontario (AFCSO); l'Association canadienne-française de l'Ontario (provincial ACFO); and Dialogue Canada of which she is President. At the international level, she was Vice-President of Richelieu International from 2003 to 2008. She was also appointed by the Ontario government as a member of several provincial committees where she defended the interests of Franco-Ontarians. In 2010, she was elected to the board of directors of the Center de la francophonie des Amériques as a representative from Ontario and was re-elected for a second three-year term. In addition, she was a member of the team that built the first six monuments representing the French-speaking community in Ottawa, including a monument honoring a pioneer of Bytown – Sister Élizabeth Bruyère. She was also chair of the fundraising committee for the Monument de la francophonie at the University of Ottawa, inaugurated in September 2013.
Ms. Cousineau's dedication has earned her numerous distinctions. She is a Life Member of Richelieu International and was the recipient of the Richelieu Albert-Boyer Prize in 2012. She was also decorated with l'Ordre de la Pléiade and the Dialogue of Cultures in 2001, and was named "Citizen of the year" by ACFO Ottawa in 2007. In 2014, she was decorated with l'Ordre des francophones d'Amérique. Awarded annually, l'Ordre des francophones d'Amérique aims to recognize the merits of people who are dedicated to maintaining and developing the French American language. Most recently, she received a 2018 Ontario Senior Achievement Award.
Her latest commitment is the recognition of official bilingualism of the Capital of Canada.