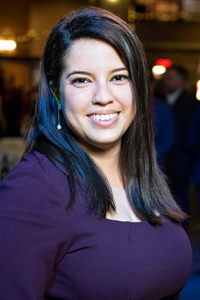 Soukaina Boutiyeb
Community Pillar
For a long time, Soukaina Boutiyeb has had a deep desire to get involved and advocate for causes that are dear to her heart. Originally from Morocco, she holds a Bachelor's Degree in International Development and Globalization with a minor in Women Studies. Despite her more international studies, she quickly wanted to help her adoptive community in regards to various issues by being part of the solutions and having a positive impact on society.
A great unifier, Ms. Boutiyeb is above all committed to the causes of women's rights and the promotion of French in a minority environment. This is concretely reflected in the positions she occupies. She is the Executive Director of the Alliance des femmes de la francophonie canadienne (AFFC) and since 2017, has been the President of l'Association des communautés francophones d'Ottawa (ACFO Ottawa). She is the first president of ACFO Ottawa from a visible minority in addition to being an immigrant. She was also Treasurer of the Réseau du patrimoine franco-ontarien (RPFO); a Member of the Executive Committee of the Centre de recherche en civilisation canadienne-française; as well as Administrator of the Centre espoir Sophie.
In addition, Soukaina Boutiyeb was instrumental in leading the development of a new bilingual Ottawa project by ACFO Ottawa. This 1.25 million dollar grant to develop bilingualism in Ottawa is of historic significance to ACFO Ottawa and is by far the largest project the Association has ever managed in its 50 years of existence. This grant was made possible through Ms. Boutiyeb's work and leadership, as she successfully united diverse community groups to build a stronger community.
Ms. Boutiyeb's desire for contributing to the community is not new. In the past, she was president of La Maison d'amitié; Member of the Board of Directors of the Centre franco-ontarien de folklore; volunteer at the Center Guigues; intervener at la ligne info-soutien au CALACS francophone d'Ottawa; host and founder of the show "À nous la parole!" on CHUM 89.1 FM; and volunteer at the Festival franco-ontarien and at Saint-Vincent Hospital.
As part of the # LaRésistance movement – following announcements of cuts in French services by the provincial government – Soukaina Boutiyeb was very present in the media in order to talk about this issue. She also supported the organization of the related and historic public demonstration on December 1st in Ottawa that was held simultaneously in other cities in Ontario and which brought together 5,000 people.
Within the Franco-Ontarian Heritage Network (RPFO), Soukaina Boutiyeb participated in the creation of the first comic strip intended to highlight Franco-Ontarian history and genealogy. It continues to be distributed across Ontario. She also created the first mobile application dedicated to the promotion of walking tours highlighting the Francophone built heritage of the city of Ottawa.
Soukaina Boutiyeb is working and will certainly continue to work to make her community fairer and stronger. She is an accessible role model for young people, women, and all Franco-Ontarians who advocate diversity and inclusion. When she gets involved in a project, she brings with her a wealth of experience, knowledge and unique contacts which are beneficial for the advancement of causes. She is the perfect example of a volunteer who gives her of time, without counting the hours, out of a passion for equality in society.