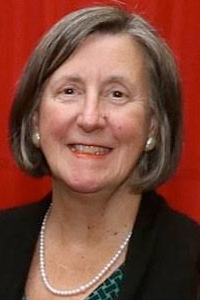 Hally Ruth Siddons
Community Pillar
Hally Ruth Siddons [BA (Hon) Western; A Mus, Western Cons Music] has been a resident of Ottawa for 34 years and a community pillar.
A strong proponent of music education in schools, Ms. Siddons developed music programmes in Canada, England, and the United States, consistently producing award-winning concert bands and orchestras. After moving back to Canada from the U.S. in 1985, she started teaching for the Carleton Board of Education (before amalgamation with Ottawa) and was conductor for the OBE's Ottawa Youth Orchestra; she founded and directed the Kanata Youth Orchestra (1986); she started the Instrumental Music programme at the new Bridlewood Elementary School in Kanata (1987); and, then moved to Stephen Leacock School where she continued to develop its instrumental music programme until retirement.
Hally Siddons devised her own music history and listening programme for all of her students, realizing that they could not appreciate Mozart or Bach if they knew nothing of the times in which these artists lived or how to listen to their music. Her concert band and youth orchestra programmes always included music from all periods and they entered into many festivals and concert band trips.
Ms. Siddons has contributed to the community in many volunteer capacities including member of the Carleton Heights Parent Council (1985-87); member of University of Western Ontario (UWO) Alumni Committee (2005-08); member of the Intermediate Music Subject Council (CBE) (1987-2001); Chair of The Ashbury Guild (1996-97); Member of the Board of Directors, Ashbury College (1997-2003); Member of the Foundation Board, Ashbury College (2004-11); Member of the City of Ottawa Arts Advisory Committee (2002-05); Member of the Board of the Friends of the Concert Hall (2011-19); and Friend of the NAC (1985 – present).
She has also been recognized through professional and service awards and honours such as Appreciation Award from the Bridlewood Senior Band (1988); Kanata Music Association Honorary Member (1988); Musicfest Canada, Kiwanis Music festival, Canada's Wonderland Festival – Several Gold Awards and 1st Placements 1989 to 2000; Carleton Board of Education 1990 – Dedication to Duty Award; Appreciation Award from the Stephen Leacock Concert Band 1993-94; Marjorie Loughrey Lifetime Achievement Arts Award; YWCA Women of Distinction Awards: The Arts Nominee, 1998, 2001; In Appreciation for your Dedication and Commitment to the Music Programme – Stephen Leacock Public School, 2001; Ashbury College Foundation Board Appreciation of Service Award, 2011; and Women Graduates' USA – Appreciation Award, 2014.
Ms. Siddons is also recognized for her volunteer work for The Canadian Federation of University Women (CFUW). After serving in a number of positions on the Board of CFUW-Ottawa, she served a two-year term as President of CFUW Ottawa (2004-2006) and co-chaired the Local Arrangements Committee for the National CFUW Annual General Meeting in Ottawa in 2010.
One of Hally Siddons most notable achievements is her effort to further the education of girls internationally. Retirement has brought time for her to study international issues of interest to her. In 2010 after meeting the Chair of the Afghanistan Independent Human Rights Commission, and learning more about the plight of Afghan women, she realized there were things Canadian women could do to help. She founded a study and external outreach group called University Women Helping Afghan Women (UWHAW)  at CFUW-Ottawa. Today, some 50 members continue to learn about the issues facing women and girls in Afghanistan, raise awareness of such issues among others locally, nationally, and internationally, and advocate and offer support. UWHAW recognizes that education, and especially education for women, is the significant key to Afghanistan's future. By July 2019, the group had raised just over $150,000 for girls' scholarships at the Gawharshad University in Kabul.
Based in Ottawa with access to Global Affairs Canada, International Development, Canadian politicians, embassies and universities, Ms. Siddons has built an extensive network regarding her Afghan work. This network has been expanded through her contact with a couple of the Permanent UN Missions in New York. As a result, she currently works with a National CFUW Afghanistan Study Group and she has been asked to speak locally and at organizational clubs and AGMs across Canada and in the U.S. She has made presentations at the UN CSW in New York and at the Graduate Women International Triennial in Istanbul. She is grateful for Canada's continuing work in Afghanistan; however, the job is not completed and she believes strongly we must keep the story alive.
Hally Siddons' efforts and enthusiasm have gained international recognition and helped many Ottawa Club members become more knowledgeable, empathetic citizens. She continues to be an active and respected member of CFUW-Ottawa. She was also recognized as a "Notable Woman" at CFUW National at its 100th anniversary Annual General Meeting in Winnipeg in 2019.
Ms. Hally Siddons has been juggling family and other community work over the years, yet has been fortunate to have travelled abroad. Her travels have only confirmed her fascination in international affairs and her strong belief that, as educated Canadian women, we have a responsibility to contribute. Having visited various Third World countries, the horrors of the Western Front, and the tragedy of such countries as Poland during the last war, she feels passionately about the need and obligation of our voices and actions in the wider world.