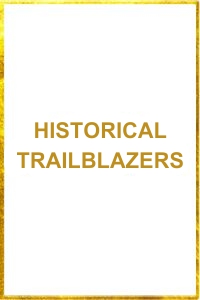 Ruth Marion Bell
Historical Trailblazers
Dr. Ruth Bell was an educator, volunteer, and a champion for women's and children's rights who advocated for change through civic and political engagement.
Born in Detroit in 1919, Ruth Bell immigrated to Canada in 1929.
As a resolute scholar, Ms. Bell earned credits at seven universities on two continents, with a culmination of her BA in Political Economy from the University of Toronto's Trinity College in 1955 and her MA in Political Science at Carleton University in 1965. Her dedication to education, however, expanded beyond her academic accomplishments. She served as the University of Waterloo's Dean of Renison College and as a political science lecturer at Waterloo, Carleton University, St. Patrick's College and Algonquin College.
Dr. Bell, an ardent supporter of literacy, worked assiduously on behalf of regional and local library boards including the Ontario Library Trustees Association, the Eastern Ontario Trustees Association and the Nepean Public Library. She believed in the preservation of archives that ultimately led to the creation of the Progressive Conservative Party of Canada's Macdonald-Cartier Library. She also had a passion for history which saw the formation of the Nepean Museum along with a donation of her beloved "Fairfields" (a 19th century farmhouse) to the City of Nepean.
In 1975, the United Nations declared the year as International Women's Year. This provided a platform for Dr. Bell and the Canadian Federation of University Women to champion the empowerment of women by influencing family property law reform, end gender stereotyping in educational institutions and advance opportunities for women to serve on boards. On the international front, Dr. Bell influenced progress as founding member and first Chair of UNESCO's Sub-Commission on the Status of Women, was involved in a number of International Federation of University Women (IFUW) conferences, and served on IFUW committees.
As a believer in the power of volunteerism in contributing to the economy and quality of society and public life, Dr. Ruth Bell was involved in a number of charitable and non-profit organizations. She served more than 50 organizations in a variety of capacities as founding member, member, president, and lifetime member. Some of the organizations included Match International, the Canadian Research Institute for the Advancement of Women, the Forum for Young Canadians, the Canadian Commission for International Year of the Child, the YM-YWCA, the National and Ottawa Council of Women, the Social Sciences & Humanities Research Council, the Royal Ottawa Hospital, the Ontario Educational Communications Authority, Canadian Committee for Learning Opportunities for Women, among others. Also, she was the longest serving director of TVOntario, and a director of the Canadian Adult Education Association. Additionally, Dr. Bell was a founding member of the Foundation for the Study of Processes of Government in Canada – a registered non-profit organization that offers innovative programming that engages youth in Canada's democratic process and its institutions resulting in the empowerment of youth for lifelong and meaningful civic engagement.
Furthermore, Dr. Ruth Bell was instrumental in setting up the Canadian Federation of University Women (CFUW) Charitable Trust, was National President from 1973 to 1976, and held the title of CFUW Archivist Emeritas. CFUW Ottawa's new Centennial Scholarship was the prime beneficiary of Dr. Bell's biography, "Be a Nice Girl…A Woman's Journey in the 20th Century" that she co-authored with Andrea M. McCormick.
In appreciation for her contributions and commitment, Dr. Ruth Bell received numerous awards and recognitions. She was recipient of the Order of Canada (1981); the City of Nepean's Distinguished Citizen Award (1982); an honourary Doctorate of Laws  from Carleton University (1984); the City of Nepean's Millennium Medal (2000); Queen Elizabeth's Golden Jubilee Medal (2002); the Governor General's Award in Commemoration of the Persons Case (2005); the YMCA-YWCA Women of Distinction Awards: Scotiabank Lifetime Achievement Award (2007); and, Carleton' University's highest non-academic award, the Founders Award (2008).
Ruth Bell was a relentless volunteer and advocate for women's and children's rights who broke the glass ceiling and helped pave the way for women to garner equal opportunity through education and legislation.
Sources
Cfuw-ottawa.org. 2021. CFUW – Ottawa – Dr. Ruth M. Bell, CM, LL.D., 39th CFUW-Ottawa President, 1968-70, 19th CFUW President, 1973-76. [online] Available at: <https://www.cfuw-ottawa.org/page-805993/3737398> [Accessed 31 January 2021].
FITTERMAN, L., 2021. Women's rights advocate Ruth Bell refused to be a 'nice girl'. [online] The Globe and Mail. Available at: <https://www.theglobeandmail.com/news/national/womens-rights-advocate-ruth-bell-refused-to-be-a-nice-girl/article28234515/> [Accessed 31 January 2021].
Forum.ca. 2021. Ruth Marion Bell: Celebrating an Extraordinary Life | Forum. [online] Available at: <http://forum.ca/ruth-marion-bell-celebrating-an-extraordinary-life/?lang=en> [Accessed 31 January 2021].
Legacy.com. 2021. Ruth BELL Obituary (2015) – Ottawa Citizen. [online] Available at: <http://www.legacy.com/obituaries/ottawacitizen/obituary.aspx?pid=176956406> [Accessed 31 January 2021].