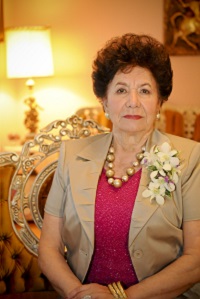 Raffaela Falsetto Plastino
Lifetime Contribution
Raffaela Plastino has been a true champion for the Italian-Canadian Community with an unparalleled commitment and tireless devotion to community initiatives and organizations for the betterment of others.
For over three decades, Ms. Plastino has been the face and heart of Italian Week, serving this non-profit organization in various capacities including President for 8 years and Vice-President for 12 years. Her tenacity and leadership elevated Italian Week from a local community event to one of the largest festivals in Ottawa that is now advertised on tourist information sites throughout North America. Her efforts have increased revenues for many businesses in Little Italy and around Ottawa, but most importantly have brought people together to savour Italian culture and traditions.
In 1949, Raffaela Plastino and her family emigrated from Cleto, Italy as part of an immigration movement arriving at Pier 21. After landing in Halifax, they journeyed to Ottawa, making it their permanent new home.
Over the years, she has worked tirelessly for the Italian-Canadian Community and has always been ready to lend a hand.  At the age of 16, she began working for A. J. Frieman, a landmark department store on Rideau Street at that time. It was a place where many Italian immigrants would shop and, speaking little or no English, would rely on Raffaela Plastino to assist them in translating their needs and requests. This experience stimulated her passion for helping others and she began a personal community outreach on her days off by helping immigrant Italians. She quickly became known in the community as the go-to person for translation services, a driver for medical appointments, a referral resource for legal and medical services, and a source of support for people in dire straits. Ms. Plastino has never steered away from hard work and long hours because her dedication to the community has always come first. This personal philosophy continues to drive her mission of public servitude to this very day.
Since 1956, Raffaela Plastino has been a staple at St. Anthony's Church of Padua on Booth Street. She began volunteering for the church by singing in the choir, doing readings, raising funds, and contributing to its social and spiritual endeavours. She was elected head of Parish Council from 1995 to 2001.  Today, St. Anthony's Church remains an integral part of her life.
Her devotion to other groups is also unrivalled.  Since its beginnings in 1987, Raffaela Plastino has been a strong supporter and volunteer of Tele-30 (Ottawa's Italian TV Program). She has also been a pillar for Villa Marconi Long-Term Care Center and was instrumental in helping the Board receive a grant of over $1 million by the Region to build Villa Marconi. Most would have considered this as their contribution, however, she continues to support Villa Marconi in various ways and to date, she is one of Villa Marconi's major donors.
In addition to supporting Ottawa's Italian-Canadian community, Ms. Plastino has contributed to other causes that have captured her heart. During the 1980s when Canada and Ottawa were a safe haven for the influx of Somalian refugees, she assisted hundreds of these individuals by offering a welcoming and helpful hand with the same conviction that she had previously extended to her Italian compatriots in the 50's , '60s and '70s. In 1976, shortly following the Friuli earthquake in Italy that killed 990 people, injured up to 3,000, and left homeless over 157,000, Raffaela Plastino was instrumental in raising the much needed funds to help with the effort.
In recognition of her volunteerism and contributions, Ms. Plastino has received awards and achievements including, the Queen's Diamond Jubilee Medal, FILO Award, Mayor's Community Builder Award, Italian Week's Person of the Year, and a day – "Raffaela Plastino Day" – was proclaimed in her honour by Mayor Jim Watson on June 10, 2011, for her tireless community service.
Raffaela Plastino's philanthropic endeavours are pervasive and continue to make her a goodwill ambassador for the Italian-Canadian Community and the greater community of Ottawa.