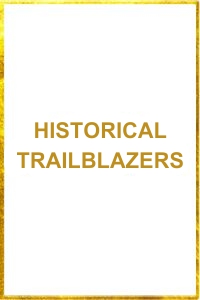 Marion Dewar
Historical Trailblazers
Marion Dewar worked tirelessly to bring about not-for-profit housing, better public transportation, support and encouragement for the arts, peace, and women's rights. She advocated for the equality of visible minorities, gays and lesbians, and was a driving force behind helping refugees.
Ms. Dewar held many political offices including the 52nd Mayor of Ottawa (1978–1985), President of the federal New Democratic Party (1985–1987), and, as a Member of Parliament for the Constituency of Hamilton Mountain (1987–1988). Prior to becoming Mayor, she was an Alderwoman (1973–1974) for Britannia Ward, City Controller (1975–1978), and Deputy Mayor (1974–1978).
She also served as the Chair of the Ottawa-Carleton Police Services Board that oversaw the merger of the Ottawa, Nepean, and Gloucester police forces.
Before entering politics, Marion Dewar graduated from Saint Joseph's School of Nursing in Kingston, Ontario in 1949, and was a nurse in the Ottawa region until 1952. She later studied nursing science and public health at the University of Ottawa and was a public health nurse from 1969 to 1971.
As Mayor, Marion Dewar made it easier for citizens to be involved in municipal decision-making and greatly improved access to low-cost housing and child care services. She modeled the role of helping groups connect with each other and distinguished herself as a tough negotiator in the Rideau Centre project. She also introduced disarmament referendums to municipal politics and encouraged other municipalities to do the same. As a peace activist, she picketed the U.S. Embassy in Ottawa after the U.S. invasion of Grenada in 1983.
One of her strongest legacies, however, is her leadership in Project 4000 (1979–1980) that encouraged Ottawa citizens to sponsor 4,000 Vietnamese, Cambodian, and Laotian refugees, also known as "boat people." By 1985, Canada was among the nations that had taken in the most refugees from Southeast Asia, making Ottawa a model for other cities to this day.
In addition to her political endeavours, Ms. Dewar volunteered for many community organizations, including the Ottawa Women's Credit Union. In 1995, she became Chair of Oxfam Canada.
For her contributions, Ms, Dewar became a Member of the Order of Canada, Canada's highest civilian honour, in 2002. Her citation reads, "As Mayor of the City of Ottawa, she introduced a number of improvements to the region's social fabric. Under her leadership, access to affordable child care and non-profit housing was improved, support services for seniors and persons with disabilities increased, and the community welcomed thousands of refugees. She continues to be active, gathering people together from all facets of the political spectrum to work for causes that transcend partisanship."
On September 25, 1999, the City also acknowledged her commitment through the naming of Marion Dewar Plaza. Located adjacent to the Ottawa City Hall complex, this site hosts many local festivals and special events.
In recognition of her outstanding work on behalf of refugees and other immigrants, The Ottawa Community Immigrant Services Organization (OCISO) established the Marion Dewar Scholarship Fund in 2009 with a legacy endowment that helps to pay for tuition and supplies for post-secondary education of refugee and immigrant high school students.
Today, thanks to the leadership of Marion Dewar, Ottawa is a stronger and more inclusive city.
Biography written by Kerry Smith.
Sources:
Gorham, D. (2016, September 13). Marion Dewar: A Life of Action by Deborah Gorham. Retrieved January 18, 2021, from https://www.goodreads.com/book/show/30038144-marion-dewar
Marion Dewar. (2021, January 02). Retrieved January 18, 2021, from https://en.wikipedia.org/wiki/Marion_Dewar
Ottawa Citizen. (2017, May 06). Capital Facts: The refugee project that forever shaped Ottawa. Retrieved January 18, 2021, from https://ottawacitizen.com/news/local-news/capital-facts-the-refugee-project-that-forever-shaped-ottawa
The Canadian Encyclopaedia. (2011, October 17). Marion Dewar. Retrieved January 19, 2021, from https://www.thecanadianencyclopedia.ca/en/article/marion-dewar