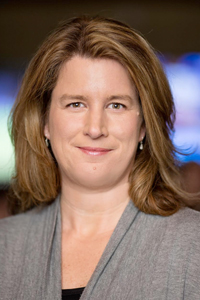 Louisa Taylor
Community Pillar
The role that Louisa Taylor has played – and continues to play – in ensuring that Ottawa is a welcoming space for refugees is both inspiring and ground-breaking.  As a strong leader and catalyst for change, she has had a remarkable influence on our community, working tirelessly to the benefit of current and future citizens of our city. Her articulate and knowledgeable voice has made Ottawa a better place for all.
On September 3, 2015, Canadians awoke to the heartbreaking media images of three-year-old Alan Kurdi's body washed up on a Turkish shore. Alan, along with his mother, brother and 12 others, were refugees fleeing Syria for a better life. They never made it. There was an outpouring of concern and action worldwide with an overwhelming number of Canadians, including Ottawans, who were full of goodwill but with no clear pathways to channel it. In Ottawa, Louisa Taylor, then a communications consultant, felt the same emotional response as did most of us; but more than that, she was galvanized into rapid action with a long-term vision.
Ms. Taylor and local leaders in settlement, health, and refugee sponsorship met to brainstorm how Ottawa could respond in an organized and collaborative manner. Their goal was to find a way to harness and align the energies of the thousands of concerned people and organizations in Ottawa, and to seize the moment in ensuring that the huge wave of public support was not just a single moment in history but the beginning of a shift in the way our community welcomes newcomers. Together they created Refugee 613, a communications and mobilization hub unique in Canada and possibly in the world. Three weeks later, it was publicly launched on October 1, 2015 at Ottawa City Hall with an operating model, a name, a brand and a website. Following its launch, the Ottawa Community Foundation and others committed to help ensure a more permanent existence for Refugee 613 by providing short-term core funding for the organization.
As a co-founder of Refugee 613, and in her capacity to assume combined roles of convener, connector and communicator; Louisa Taylor was chosen as leader and became a strong and articulate spokesperson for refugee resettlement. Refugee 613 became an agile and innovative communications hub that informs, connects and inspires people to welcome refugees and build strong communities. In its infancy, the organization's focus was heavily geared on the operational side by coordinating volunteers, sponsors, sponsorship groups, settlement agencies, service providers, community groups and others to work together to address urgent issues of settlement including housing, physical and mental wellness, education, and employment. More recently under Ms. Taylor's leadership, Refugee 613 has evolved from a position of response to one of leadership. While providing information and convening to help Ottawans support refugees making their home in Ottawa, it is also sharing its expertise in innovative communications with other organizations in this sector nationally and internationally.
From 2015 to 2019, Refugee 613's accomplishments have included helping secure more than $1.8M in funding for refugee services and research (more than half of which went to partner agencies); responding with information and referrals to more than 6,000 inquiries for refugee support; and, creating a digital messaging group serving 500 Arabic-speaking newcomers every day. Other achievements include hosting 1,800 participants in workshops and other training for refugee sponsors and service providers; distributing 225 newsletters to more than 5,000 community members; creating a strong voice for refugee welcome on social media with 3,600+ followers on Facebook and the same on Twitter; participating in more than 40 media interviews; and, leading a national project to test additional digital messaging models in four Canadian communities.
A former features editor at the Toronto Star and contributor to the Associated Press and The Economist, Louisa Taylor was also a senior reporter at the Ottawa Citizen from 2006 to 2013. It was there that she began to focus on social policy and community, and increasingly on immigration and diversity. She received a journalism grant in 2011 from the Canadian Institutes of Health Research to write a series on the "healthy immigrant effect"; the phenomenon that, in general, immigrants arrive in Canada healthier than the rest of us but that after 10 years, their health declines to the Canadian average. Ms. Taylor travelled to refugee camps in Nepal, immigration workshops in India, hospitals in Manhattan and clinics in Ottawa to explore the complex factors behind the declining health of immigrants. She notes, "I loved how this challenges the notion of immigrants as a threat to the well-being of societies and shines a light on some of the personal cost of migration."
Ms. Taylor has written many articles in relation to making the world a better place for all of us – access to medicine, effects of racial profiling, child care policy, etc. She believes that if people have better information about seemingly complex things, we as a society might make better decisions. It is this belief and the strong community connections she has made as a reporter that have proved to be invaluable in helping refugees settle in Ottawa.
Louisa Taylor has dedicated her career to driving positive change, identifying needs and opportunities, and bringing people and organizations together to make our community better. She is a member of Ottawa Embraces (Refugee Sponsorship Group) (2016-present); former member of Citizenship and Immigration Canada Advisory Council on Social Innovation (2015-17); former Honorary Co-Chair of Welcoming Ottawa Week (2014-17); Founder and former Coordinator of Datafest Ottawa (2014-18); and Co-founder and former Coordinator of The Travers Debates (2012-17).
For her commitment and initiative, Louisa Taylor has been recognized with numerous recognitions and awards such as United Way Community Builder of the Year (2016) for Refugee 613 and its partners; Joan Gullen Award for Media Excellence (2013) for her series on social and health implications of expansion of gambling (Ottawa Citizen); Canadian Medical Association Media Award of Excellence in Health Reporting (2012) for her series "Unhealthy Welcome", on immigrant and refugee health Ottawa Citizen; Joan Gullen Award for Media Excellence (2012) for her feature on homeless shelters for young women (Ottawa Citizen); and Ottawa Community Immigrant Services Organization Media Leadership Award (2010) for coverage of immigration policy and newcomer communities in Ottawa.