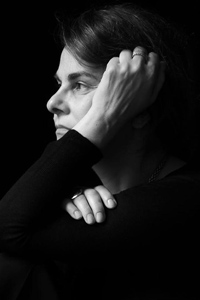 Lesia Maruschak
Women of Inspiration
Lesia Maruschak is a pioneer and an exceptional leader who truly cares about others. She moved to Ottawa from Saskatchewan over 35 years ago and has contributed to the local community as a Canadian government public servant, executive leader, philanthropist, business entrepreneur, and now as an artist. While her place of residence and local community are located in Ottawa, her reach is global.
During her first 20 years in the federal government, Lesia Maruschak pioneered initiatives aimed at improving the lives of the organizations and employees she served. This commitment first manifested during her employment at the Communications Security Establishment (CSE). While working with the Chief Herald of Canada, she saw the opportunity for CSE (one of Canada's top-secret organizations) to have an identifying symbol – the CSE Badge. Ms. Maruschak understood the challenges faced by employees who serve an organization where security requirements restrict what can be said to those outside of the CSE. The CSE Badge awarded in 1984 continues to be an important symbol that enshrines the spirit and contributions of the dedicated men and women who serve our country and who take pride in their accomplishments, most of which, may never be publicly acknowledged due to national security reasons.
In 1995, Ms. Maruschak left the Public Service to raise her children while completing an MBA and founding and running a local business. Her 2003 re-entry into the federal government occurred about the time of the Romanov Report (2002) and one of the objective's from the 2003 Speech from the Throne to "speed up the drug approval process" as regulated by Health Canada. Through improved leadership, employee communications, and continuous learning, Lesia Maruschak pioneered, implemented and managed the newly formed, award-winning Business Transformation Division with a portfolio of first-ever departmental initiatives supporting the Throne's objectives.
In 2005, the Assistant Deputy Minister of the Canadian Forest Service, Natural Resources Canada invited Lesia Maruschak to serve as his special assistant and her initiatives and divisions led to improved employee well-being, learning, engagement and leadership. Unfortunately, four years later she discovered that she had chronic lymphocytic leukemia (a rare and incurable blood cancer) and left her executive position in the Canadian government to care for her family, others impacted by cancer, and herself – all in that order.
Ms. Maruschak channeled what little energy she had into a personal mission to be a voice and advocate for the thousands of Canadians suffering from incurable blood cancers. She began volunteering with the Leukemia & Lymphoma Society of Canada (LLSC), helping to organize fundraisers, promoting awareness walks and sharing her personal story so that it may inspire and give hope to others with similar challenges. She convinced Ottawa retailers to donate a portion of their profits to the LLSC and developed an art program for children with cancer. She also inspired participants in the Canada Ukraine Parliamentary Program to join in her philanthropic activities that eventually led to the formation of similar initiatives in the Ukraine. Her online newsletter "Live, Act and Be Grateful" featured personal stories, tips on nutrition, recipes and recommendations on how to stay positive during treatment.
Lesia Maruschak soon discovered that she had the opportunity to truly impact the world and change lives with her message and that people could learn from her and that they could grow, and be hopeful. Despite her own health challenges, she raised funds for LLSC's charity walks and she agreed to be Ottawa's LLSC Light the Night Hero (2012). Though this put additional demands on her time and energy, she accepted this extra commitment without hesitation.
Yet, Ms. Maruschak continued to want to do more and give back more. She recognized that it was important to be able to give 100% of the funds raised towards blood cancers research. Pushing through everything that was going on in her life, she founded the Canadian Charity cure: blood cancer in 2013 and provided $70,000 of its proceeds for research at the Ottawa Hospital.
Eventually, Lesia Maruschak needed to direct energy towards personal healing and art became her vehicle. Today, she is recognized as an influential contemporary photographer. Her work has garnered attention from one of the world's most influential contemporary photographers, Peter Lindbergh and through his influence, she has discovered a unique way to engage in issues relevant to contemporary society, challenging current photographic dialogues and working to decolonize narratives which are critical issues in photography debate. Her humanistic approach and abstract representation of history's victims allow her to manifest each person's untarnished soul and voice and touch the spirits and inspire people in her local community, and internationally.
Now an international artist, Lesia Maruschak's commitment to contribute locally is unwavering, ranging from exhibiting to donating her art to enrich the lives of Ottawa's citizens. Recently, she made a muli-thousand dollar donation of art from the KRAÏNA series to a new credit union opening in Ottawa. While her photographs have been exhibited in the United States, Mexico, Korea and throughout Europe, her series KRAÏNA: i am the land premiered in Ottawa as part of Canada's 150 celebrations. Many of her works are included in rare and special collections worldwide including the Phoenix Art Museum, Stanford University, Athenaeum, Columbia University, Thomas J. Dodd Research Center, and the Library of Congress. Locally, her art and books are found in various collections including 24 Sussex, the National Archives and the Library of Canada.
In 2013, Lesia Maruschak was presented with the Governor General of Canada's Caring Canadian Award and the Silver Medal Award for her voluntary contributions to our local community and nation.