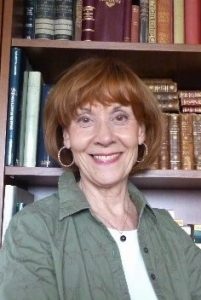 Ingrid McCarthy
Women of Inspiration
Ingrid McCarthy is an accomplished artist and author who continues to inspire countless young people while benefitting many community initiatives and organizations.
For over three decades, Ingrid McCarthy worked tirelessly without personal pecuniary gain in providing first-rate theatre productions to the benefit of the community of New Edinburgh and local charities including the Humane Society Building Fund. She was the Founder and, for over 30 years, the Artistic Director of the former New Edinburgh Players – a fundraising community theatre where she had staged, directed, and performed in more than fifty plays.
Ingrid McCarthy is also a very accomplished artist of decorative watercolors. She has delighted many with the translucency of her beautiful landscapes, flower paintings, and still lifes. These works of art have been part of her vernissages and formal art exhibitions in Canada and abroad.
Her creative experiences and interests are also reflected in her writings. She has authored many books under her own name and her nom de plume, Rose D. Franklyn. Inspired by strong, visual elements as well as powerful storytelling, Ms. McCarthy has integrated these elements and a lifelong passion for the Brothers Grimm fairy tales in her adult novellas and children's books. Her novellas include Theodor's Choice, Twist of Fate, The Note and A Second Chance; and, her children's books, a graphic novel and the fantasy trilogy: The Black Pearl of Osis, The Curse of Lake Osis, and The Battle of Osis.  She has read from her children's books to students in many elementary schools in the region and the Ottawa Public Library, encouraging children to read and write. In addition, Ingrid McCarthy is an essayist and fictional memoirist, writing about today's modern social mores and their consequences in the classical Anaïs Nin style.
Ms. McCarthy was born and raised in Bremerhaven, Germany, and lived in Spain prior to moving to Montreal. After a two-year residency in Durham, North Carolina, she returned to Canada and moved to Ottawa where she currently resides. She has studied many modern languages to degree levels and is fluent in four languages – English, French, German, and Spanish. She is also a past member of the Canadian Authors Association, a former member of the Canadian Federation of University Women, and the recipient of the 30+ Volunteer Award in 2009 from Ontario Volunteer Service Awards.