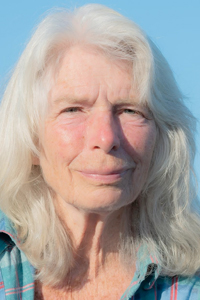 Heather Menzies
Lifetime Contribution
Heather Menzies is a long-time activist in the women's movement, social justice, and cultural politics. In recent years, she has been devoted to effecting the necessary changes to heal relations between settler and Indigenous peoples in Canada.
Ms. Menzies has been a journalist, a teacher, an acclaimed public speaker, and an award winning writer. Using knowledge gained through academic studies on changes to society due to the rise of technology, she has become a respected spokesperson for those who caution against the increasing invasiveness of digital technologies on our lives. She has used her feminist perspective to highlight how women in particular will be impacted by the changes we are living through.
Heather Menzies obtained a B.A. in Sociology from McGill University in 1970. Early in her career she was a journalist with the Edmonton Journal (1974-76) and later, a columnist with the Winnipeg Tribune (1978-1980). Building on this print media experience, she has gone on to write books and articles targeted at academic and non-academic audiences where she clearly describes the impact and consequences of the rapid changes we are experiencing in our lives, our work, and our society. She is the author of ten books (Reclaiming the Commons; Enter Mourning; No Time: Stress and the Crisis of Modern Life; Whose Brave New World?; By the Labour of Their Hands: The Story of Ontario Cheddar Cheese; Fastforward and Out of Control; Women and the Chip; Canada in the Global Village; Computers on the Job; and The Railroad's Not Enough).
Ms. Menzies received the Ottawa Book Award (non-fiction) in 2006, for No Time: Stress and the Crisis of Modern Life and again in 2015, for Reclaiming the Commons for the Common Good. Two of her books were on the Globe and Mail "Best 100" books list for 2005 and 2009 (for No Time and Enter Mourning).
Heather Menzies is an adjunct professor in the School of Indigenous and Canadian Studies, Carleton University. In this position she looks at how Canada and the people who live here are being shaped by and are responding to the social, political and economic trends roughly associated with post-industrialism, post-modernism and globalization. Students who have taken her Canadian Studies course, "Canada in a Post-Industrial Era," have praised her passion and knowledge.
Her academic CV lists Chapters in Books (8); papers in refereed journals (7); other journal/magazine articles (18); and numerous keynote conference talks.
Heather Menzies has not limited herself to print media as her only way of communicating her ideas on our changing world. She produced and partly directed a 12-part video series called "Canada in the Global Village," and also directed and produced a documentary on Canadian physicist-peace activist, Ursula Franklin, called "The Soul of a Scientist." In addition, she has been an invited speaker, a commentator on radio broadcasts, and a guest lecturer at numerous Canadian universities. Ms. Menzies uses her unique ability to detail and explain at both a grassroots and an intellectual level the changes that are occurring around us and how it is affecting our lives, relationships and health.
Ms. Menzies' role as a passionate advocate for social justice led to her being appointed to the National Board, Amnesty International Canada (English-speaking Branch; 1979-81). She is a founding member of the Ottawa-based Women's Health Project, which supports victims of gender-based violence in places like Bosnia and Somalia. She was the Chair of the Writers' Union of Canada (2015-2016), and previously served on the board of the Canadian Centre for Policy Alternatives and as the Director of the National Executive of Amnesty International Canada.
In 2007, Concordia University awarded Heather Menzies an Honourary Doctorate for her pioneering work and analyses. Part of Concordia University's citation included the statement, "… Ms. Menzies has also pioneered Canadian feminist analyses of digital technology through her early analysis of the impact of computerization on women's work and through her ruminations on the nature of technology, time and health."
In 2013, Heather Menzies was awarded the Order of Canada for her 'contributions to public discourse.'
Heather Menzies currently lives on unceded Snuneymuxw territory in B.C. and her long list of activities and accomplishments have been an inspiration to those who know her or, who know of her work. To Ms. Menzies, the many acknowledgements by peers is gratifying, but more importantly to her is the positive response she gets from those of us who look to leaders like her to guide us through these challenging times. Too often we applaud and accept new technologies that affect all aspects of our lives. Fortunately, we have people like Heather Menzies who are able to question why we need these technologies, and to caution us about blind acceptance of these new ideas without considering the consequences.