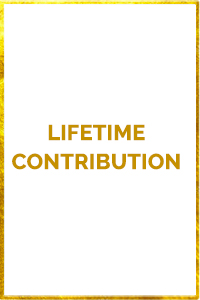 Heather Crowe
Lifetime Contribution
Heather Crowe was an inspirational woman who lived in Ottawa and impacted the lives of Canadians across the country. Her story is a reminder that much can be achieved when someone steps up and takes a stand. She is remembered for her efforts, work and successes that have left Ottawa with healthier environments for every worker and citizen; and for that, we will be forever grateful.
Ms. Crowe worked in the restaurant industry for 40 years. In Ottawa, she worked at The Newport Restaurant on Richmond Road, which still operates today. In March 2002, Heather Crowe was diagnosed with stage 3B non-small cell lung cancer in the upper lobe of her left lung. She had never smoked a day in her life, yet for those four decades in the restaurant industry, she had been exposed to the invisible killer known as second-hand smoke. Her doctor explained that the cancer had been caused from this exposure in her workplace. A year prior to this, in August 2001, Ottawa had become a leader in our nation by enacting the Smoke-Free Ottawa By-Law which prohibited smoking in all enclosed public places and workplaces in Ottawa; but sadly, for Heather Crowe it was too late.
Despite this saddening and life altering news, Ms. Crowe did not spiral into self-pity or inaction. She saw this as an opportunity to leap for change and became one of the most effective advocates for a smoking ban in public places. Despite her precarious health, she travelled across Canada and spoke to politicians, hospitality workers, health professionals, community activists, anti-smoking groups and the public. She made public appearances and presentations to Provincial Legislatures in most provinces and to City Councils in many major cities. She spoke with Dalton McGuinty who was then the provincial leader of the Opposition and was putting together his platform for the 2003 campaign. Her passion and quest influenced and inspired McGuinty, who began speaking of making Ontario smoke-free. The campaign promise became a bill, which passed and became the Smoke Free Ontario Act on May 31, 2006.
Heather Crowe agreed to appear in Health Canada's campaign to inform the public about the dangers of second-hand smoke where she demanded stricter laws to protect workers from the awful haze. Her story reached millions of Canadians through television, cinema and transit advertisements, speaking about how she developed cancer from being exposed to second-hand smoke in the restaurant industry. She inspired a powerful media drive to promote the importance of occupational health and safety everywhere in Canada. Many communities, provinces and territories banned smoking in workplaces only after she had visited them and made her personal appeal. Ms. Crowe also championed her ideals on a local level, addressing the Pub and Bar Coalition of Ontario (a group of restaurant owners who did not support the smoke-free by-law after it came into effect). Furthermore, she frequently engaged youth on the effects of tobacco use.
Upon receiving her diagnosis and due to being unable to work, Heather Crowe took her case to the Ontario Workplace Safety and Insurance Board. At first, she was told that lung cancer, despite being due to workplace second-hand smoke exposure, was not recognized as a work-related injury and was therefore not covered. She went looking for support in the Non-Smokers Rights Association and her battle for her rights became very public, all the while pushing through cancer treatments. Ms. Crowe was a person of inexorable strength. She became the first person to win a claim for full compensation for occupational exposure to cigarette smoke and received payments for lost earnings and health care benefits. Her case set a precedent in that the workers' compensation board was forced to acknowledge that exposure to second-hand smoke was inevitably a work-related injury.
Heather Crowe fought the disease into remission with chemotherapy, radiation and steroids. She stated: "It's too late for me, but it's the next generation I've been doing this for. I want to be the last worker to die from second-hand smoke." She never stopped advocating for safer and healthy workplaces. Unfortunately, four years after her diagnosis, Ms. Crowe passed away on May 22, 2006 at the young age of 61 and only nine days before the legislation for a smoke-free Ontario came into effect. Thanks to her advocacy, strength and courage, Ontario led the country with the toughest and most progressive anti-smoking legislation. Her tireless work has given patrons, waiters/waitresses and workers country-wide the right to work in healthy and safe environments, free of the dangers of second-hand smoke. The 2006 Smoke-Free Ontario Act bans smoking in any enclosed public place and workplace and restricts the promotion, handling and display of cigarettes in stores. Furthermore, Heather Crowe's campaign was a milestone for Ottawa in terms of tobacco control. Since the enactment of laws and legislation on the prohibition of smoking in public places and workplace, smoking rates have declined significantly.
In April 2004, Ms. Crowe was awarded the Meritorious Service Medal in the Civil Division from the Governor General of Canada for her invaluable work. In December 2005, Ontario Premier Dalton McGuinty presented Heather Crowe with an award in her honour: the Heather Crowe Smoke-Free Ontario Award. This award honours anti-smoking advocates who have made a significant contribution toward achieving and promoting a smoke-free Ontario. As of 2019, there have been 10 recipients to date. In 2009, the City of Ottawa recognized Heather Crowe's contributions to tobacco control and dedicated a city park at 1902 Scott Street in her honour. Over a decade after her passing, her voice is as strong as ever. The health community continues to fight for tobacco prevention and the regulation of cannabis and vaping products. She has left an incredible legacy.
Heather Crowe was truly outstanding in her selflessness and commitment to a bigger cause. Her contributions have left each and every one of us with the assurance of living a healthier life free of harmful second-hand smoke, greatly reducing that concern for our future generations to come. Her public service was both courageous and altruistic. Luckily for our communities, Ms. Crowe's initiatives lead to the betterment of Canadians on a national scale. She led by example, inspiring us all to commit to a cause. No one person is too small to enact change. Ottawa Public Health Board is very aware of continuing concerns related to smoking and vaping in our community. There is still much work to be done and Heather Crowe is an excellent example of an advocate for change. By sharing her story so courageously she helped to lay the ground work for the progress made to date.