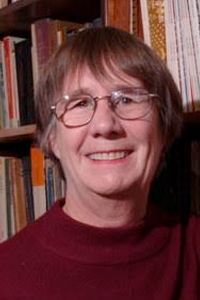 Dr. Ann B. Denis
Life Time Contribution
Professor Ann Denis was a gentle, knowledgeable voice for women in many local and some international groups. What distinguished Dr. Denis were her leadership abilities, her breadth of knowledge, and her willingness to use both for the benefit of the communities in which she participated. Her investments in mentorship, academic work, and in our community to advance gender equality will have a lasting impact in Ottawa and beyond.
Ann Denis completed her Bachelor's Degree at Carleton University, and her Masters and PhD at the London School of Economics, all in Sociology.  She taught at Bishop's University, the University of Western Ontario, and the University of Ottawa. As an early feminist, she conducted research in Canada, Australia and the Commonwealth Caribbean (especially in Barbados) focusing on the power relations within and between societies, particularly on the intersection of gender, ethnicity/race, and class. Her commitment for social justice led her to be actively involved in participatory action research projects, using these fairly new methods, for example, to investigate women's rights and public services in a municipal context, choosing to do so in Ottawa.
Upon retirement from the University of Ottawa, Dr. Ann B. Denis became Professor Emerita and through her devotion to the students continued working with them and committees. She was also a strong supporter, advocate and active user of municipal services like the public library, including supporting and using the Ottawa Seed Library. At the time of her death, Dr. Denis was still fully engaged in her work with the University, with the Canadian Research Institute for the Advancement of Women (CRIAW) and with the Canadian Federation of University Women (CFUW).
In addition, Dr. Ann Denis was the convenor of a local book club, suggesting books and enjoying the fellowship of the attendees at meetings to discuss them. She always had a point of view, sometimes different from others, as a result of her wide reading and knowledge. In another CFUW-Ottawa committee, she took a leadership role in planning a seminar about women and global education. From her extensive experience with women's issues, she had developed the outlines of a program and made contact with World University Service of Canada (WUSC) who became partners in holding the event. She participated for several years in the CFUW-Ottawa Resolutions Committee, using her research skills to frame and clarify resolutions which went to the national conference. As a CRIAW member, she often attended meetings of the United Nations Commission on the Status of Women (UN-CSW) each year at the United Nations in New York. At the UN-CSW 60 in 2016 she collaborated with CFUW members to present a joint CRIAW-CFUW session. She was always generous in sharing her impressions of the CSW meetings and what she had learned from them. Further, Dr. Ann Denis was a new member of the CFUW Charitable Trust Fellowships Committee, one of eight members from across Canada who read and evaluated proposals for about $140,000 in scholarships given each year by the national organization.
Dr. Denis' work and expertise have been recognized. As well as Professor Emerita at the University of Ottawa, she received a Femmy Award from the Ottawa Area International Women's Day group in recognition of her contributions to women's advancement through CRIAW, her research, teaching, and her work with national and international professional associations, especially in sociology and women's studies.
Dr. Ann Denis was good company, loyal and generous with her friends with whom she enjoyed discussions, travelling, attending theatre and ballet performances, as well as walking/hiking, gardening, snowshoeing and entertaining in her home. She was also active in the Unitarian Congregation where she met her late husband. As a Unitarian in Ottawa, she was an active member of various committees: she led the Ottawa South Neighbourhood Group which met monthly and she participated in a group that recently welcomed a Syrian refugee family. Her walking and use of public transit was legendary – though she owned a car, she walked almost everywhere or took the bus when necessary.
Many of Dr. Ann Denis' friends and colleagues were saddened by her untimely death in February, 2019 that not only left a hole in their lives but a loss of a voice and leadership within the community. She was characterized by true feminist leadership: authentic, ambitious, focused, humble, respectful, generous, and inclusive. She was about lifting other women up and sharing the collective achievement of work well done.