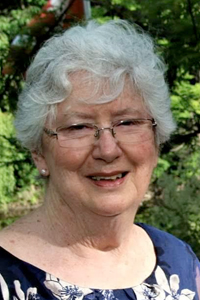 Dorothy Anne Phillips
Community Pillar
Dorothy Anne Phillips (BA, BScN, Saskatchewan; MA, PhD, Alberta), a resident of Ottawa for 44 years, has made important contributions to the life of the city.
During the years 1975 to 1996, Dorothy Phillips was first a member of, and then headed, a Behavioural Research group for the Government of Canada's Communication Research Centre. In that position, she managed a group of scientists who conducted behavioural research on new communications technologies during the early years of the Internet's development. She wrote many articles about how people would use the new technologies, based on their vision, hearing, cognitive processes and social interests. Her writings were aimed at helping scientists design new technologies for the user and helping the general public to understand the new ideas about communications. As well as her own writing, she edited and proofread all of the articles published by the group. This position also gave her many opportunities to write for conferences and for journals and to lecture in many parts of the world.
Upon retirement, she began writing nonfiction on general topics and eventually found her main interest in history. That interest culminated in the authorship of the book Victor and Evie: British Aristocrats in Wartime Rideau Hall (McGill-Queen's UP: 2017) in which she has woven together the personal and professional stories of Canada's 11th Governor General, the Duke of Devonshire, and his wife (a daughter of the fifth Governor General, Lord Lansdowne). This well-researched book is fascinating and has received positive reviews. It was short-listed for the Ottawa Book Award in 2018. By definition, the book is primarily set in the city of Ottawa. The Duke of Devonshire was Governor General in tumultuous times involving World War I, a conscription fight, the Halifax Explosion and the Winnipeg Strike, to mention only a few crises. The book has been so successful that Dorothy Phillips is now researching another Governor General, Lord Lansdowne, and hopes that this research will result in another book.
Ms. Phillips is well-known in the city for her volunteer work too. She proofreads for the Glebe Report and writes articles for that newspaper (glebereport.ca). She has also contributed to the Glebe St. James United Church where she has worked on some of their committees and helped with the organization of bazaars, rummage sales and the like. She recently resigned from the Board of the Historical Society of Ottawa but is still active in attending and presenting as part of the program.
Dorothy Phillips is also known for her work with the Canadian Federation of University Women. She was President of CFUW-Ottawa in 1995-1996, and she has supported the Club for over 40 years. As a prominent member of CFUW-Ottawa, she has demonstrated vision and leadership both at the local and international level. She was the Chair of the Ottawa Local Arrangements Committee for the 2001 Triennial International Federation of University Women (now Graduate Women International) Conference held in Ottawa. She co-authored a national policy Resolution on Reduction of Dietary Sodium in 2013. Currently within the CFUW-Ottawa chapter she is Co-convenor of an interest group called The Writers' Workshop. An outcome of that workshop is the play The Famous Five: Reformers and Rebels which she wrote with George Shirref. She initiated and for three years convened another interest group called Focus on Graduate Women International (GWI) in which members study the programs and advocacy of GWI. In the spring of 2019, the group, with partners World University Service of Canada (WUSC), held a very successful one-day seminar entitled: Empowerment Through Education: A Global Agenda for Women and Girls, for which they received an award at the National CFUW Conference in August during its one hundredth anniversary meeting in Winnipeg. At that same conference, in recognition of all her work over the years CFUW National named Dorothy a "Notable Woman."