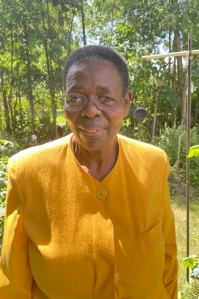 Beatrice Osome
Women of Inspiration
Beatrice Kavere Osome is a retired nurse and activist who has devoted her time since 2006 to digging as many wells as possible in her native Kenya.
Ms. Osome was born in a small village called Kiritu in Kenya. The oldest surviving child of eight children, she and her siblings walked to the closest river every day to collect water, transporting it back to their village on their heads for 3 kilometers. The water was often contaminated, leaving the communities vulnerable to various illnesses including typhoid, cholera, and dysentery – a reality that is deeply personal with the death of one of her sisters who contracted typhoid as a teenager from infected water.
Following Grade 4, Beatrice Osome was sent to a Quaker boarding school to further her education where she was provided with accommodation, food, and a uniform. In gratitude, she made a personal commitment to work hard to help her parents along with those around her in the villages. She completed secondary education in an Anglican School in 1964 and later went to Nairobi, Kenya to study nursing and midwifery. She also volunteered at Kenyatta National Hospital on behalf of the Hospital Christian Fellowship where she actively helped by offering assistance, visiting and consoling patients, and taking part in a choir that comforted the sick. At the same time, she began a Fellowship for Nurses to pray with each other and with patients. While training, Ms. Osome received tutoring from American and British nurses who were visiting. This inspired her to travel to discover what nursing was like in these countries. In 1969, she graduated as a nurse and completed her midwifery programme.
Two years later, she along with her husband and children immigrated to London, Ontario where she began working as a nurse in Victoria Hospital. At top of mind, however, was her experience with the lack of clean water in rural Kenya and in other developing countries. Something that Canadians often take for granted, contaminated water has perilous ramifications for many residents in developing countries. One in six people lacks access to safe drinking water; 80% of all illnesses are related to unsanitary water and services; and, a child dies every 8 seconds from diseases associated with unsafe water.
In 1976, Ms. Osome moved to Ottawa with her family and began working at St. Vincent Hospital (now Elizabeth Bruyere hospital). Upon retirement in 1999, she began working part-time between two long-term care facilities, Grace Manor and Garden Terrace. By this time, her concern with contaminated waters in developing countries was forefront in her mission to improve the circumstances of those impacted. A solution was to obtain the necessary funding and resources to dig wells in villages. As part of a group called Staff Nurses Interest Group (SNIG) of the Registered Nurses Association of Ontario, she accepted donations and motivated individuals to assist. The SNIG would become one of the sponsors of a well.
In 2005, Ms. Osome joined the Ottawa West Rotary Club with the intention of serving her current community as well as that of her early years and, in 2007, the club helped coordinate and facilitate the digging of their first sponsored well. School officials and community leaders from affected villages began submitting proposals for wells to Ms. Osome for consideration and as each well was completed, a celebration was held in the respective village. Further, to ensure the longevity of each well's infrastructure, each village was tasked with maintaining its well and did so by charging a nominal fee that was administered by the board of their local primary school. The collected fees went to a dedicated fund and used to cover expenses for repairs regarding breaks and pump mechanisms. Yet, for those unable to pay the fee, access remained granted.  Due to her efforts, her first well was built in her parent's home village of Kiritu, Kenya followed by a number of other wells.
Beatrice Osome has also been a lobbyist for safe working places for Ontario Nursing Association members in nursing homes.
In recognition of her dedication and support of newcomers, Ms. Osome was recognized as a WOW Ambassador in 2014 by Ottawa Local Immigration Partnership (OLIP) through its Welcoming Ottawa Week.  Also, for her 40 plus years as a member of the Registered Nurses Association of Ontario (RNAO), she was made a Member Emeritus of RNAO, Region 10 Ottawa. She was also voted by the City of Ottawa as one of a group of Champions in Health Care.
Nothing encapsulates the spirit of this outstanding woman better than her motto, "Where there's a will, there's a well."