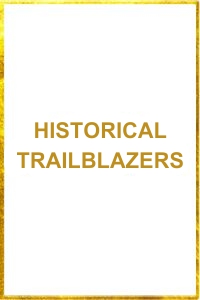 Pauline Jewett
Historical Trailblazers
Pauline Jewett, an academic, politician and social activist, was the first woman to be president of a major Canadian university. Her passion for social justice and disdain for discrimination fueled her advocacy for social equity, women, and aboriginal persons.
Ms. Jewett was born and raised in St. Catharine's, Ontario where she attained her primary and secondary education. She later received a BA in politics and philosophy, followed by an MA from Queen's University and, in 1949, a Ph.D. in political science from Harvard University's Radcliffe School. In addition, she furthered her education at Oxford University and at the London School of Economics.
In recognizing the importance of post-secondary education, she began working as a lecturer at Wellesley College, Queen's University, and later at Carleton University, where she eventually became Chair of the Department of Political Science (1960 to 1961) followed by Director of the Institute of Canadian Studies (1967 to 1972).
From 1963 to 1965, Pauline Jewitt was a Liberal MP in the riding of Northumberland (Brighton, Ontario) and in 1966 was elected as Vice-President of the national Liberal Party following her defeat in the 1965 federal election. In response to a decision by Prime Minister Pierre Elliot Trudeau to invoke the War Measures Act during the October Crisis, she left the Liberal Party and joined the New Democratic Party. She ran as the NDP candidate in the 1972 federal election in the riding of Ottawa West, but was unsuccessful.
In 1974, she moved to British Columbia to assume the position of President at Simon Fraser University, making her the first woman to be president of a Canadian co-educational university.
After five years, she returned to a career in politics and was elected MP in the riding of New Westminster-Coquitlam as its NDP candidate. She was further elected in the 1980 and 1984 federal elections. In Parliament, she became NDP critic on education and external affairs, the constitution, federal-provincial relations, arms control, and disarmament.
In 1988, Ms. Jewett decided to retire from politics and instead opted to return to Carleton University to become its Chancellor, a position that she held until her death in 1992 – the same year that she was appointed to the Privy Council by Prime Minister Brian Mulroney.
Pauline Jewett's successes helped pave a path that increased accessibility for women to enter academia and politics. She served as a consultant to the Royal Commission on the Status of Women and was a founding member of the NDP's Participation of Women group. She also helped author various texts on Canadian issues; was a contributing author of Canadian Economic Policy (published in 1961); was author of the study for the Canadian Nurses' Association in a formal review of its structure; and, wrote various articles on political and governmental issues.
Recognized for her contributions, Ms. Jewett was made an Officer of the Order of Canada in 1991. She was also as a recipient of a Medal in Politics and of an Arts Resident Research Fellowship, both at Queen's University. Further, she received the Henry Clay Jackson Fellowship from Harvard's Radcliffe College, and the Marty Memorial Scholarship. In 1992, Carleton University renamed its Women's Studies Institute the "Pauline Jewett Institute of Women's Studies".
Ms. Jewett overcame a number of social and gender barriers and became an important role model to a generation of younger women.
Written by Hayley Apted
Sources
Caton, M., 2021. Pauline Jewett. [online] WorkersHistoryMuseum. Available at: <https://workershistorymuseum.ca/pauline-jewett/> [Accessed 15 February 2021].
En.wikipedia.org. 2021. Pauline Jewett. [online] Available at: <https://en.wikipedia.org/wiki/Pauline_Jewett> [Accessed 15 February 2021].
Google Books. 2021. Pauline Jewett. [online] Available at: <https://books.google.ca/books/about/Pauline_Jewett.html?id=O2PXekQolK0C&redir_esc=y> [Accessed 15 February 2021].
Gorham, H., 2008. Pauline Jewett | The Canadian Encyclopedia. [online] Thecanadianencyclopedia.ca. Available at: <https://www.thecanadianencyclopedia.ca/en/article/pauline-jewett> [Accessed 15 February 2021].