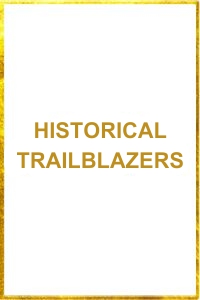 Naomi Jackson Groves
Historical Trailblazers
A leading art historian, patron, artist, teacher and writer, Naomi Jackson Groves' passion for linguistics and art have benefited all Canadians, as have her generous gifts of art and documents to various institutions.
Naomi Groves was born in Montreal in 1910 and studied at the Art Association of Montreal during high school. The niece of renowned Canadian artist A. Y. Jackson, she was raised amidst the artistry of the Group of Seven. Ms. Groves was influenced by her uncle's artistic style and perception of the Canadian identity as centered around its environment.
Influenced by her bilingual English and French upbringing, Ms. Groves' linguistic skills developed early. She learned Danish from a neighbour and became fluent in the language after spending a year in Copenhagen at age 18. Upon returning to Canada, she studied German at McGill University. Her linguistic excellence and academic achievements were recognized in 1933, when she was awarded a Governor General's gold medal for modern languages. The same year, she completed her bachelor's degree and went on to earn her master's in 1935.
In 1936, Naomi Groves received an artistic scholarship from the Canadian Federation of University Women and she traveled throughout France and Germany with A. Y. Jackson, painting along the way. The diaries they kept during this time inspired her book, Two Jacksons Abroad, which contains correspondence and reproductions of their artwork. Her other publications include: A.Y.'s Canada; Ernst Barlach: Life in Work, Sculpture, Drawings and Graphics, Dramas, Prose Works and Letters in Translation; One Summer in Québec: A.Y. Jackson in 1925, A Family View; and Works by A.Y. Jackson from the 1930s.
Ms. Groves was an expert on both A. Y. Jackson and Ernst Barlach, a German sculptor and playwright whom she discovered while in Europe. She translated many of Barlach's works and focused her doctoral dissertation on him, titled Ernst Barlach: The Development of a Versatile Genius. She began her dissertation at Radcliffe College in 1937 and completed it in 1950 at Harvard University.
During the war, Naomi Groves taught German at Wheaton College from 1940 to 1942 and subsequently moved to Ottawa, becoming assistant to the director of the National Gallery of Canada until 1943. At the same time, she taught German at Carleton University.
After the Second World War, Dr. Groves traveled to Finnish Lapland as a member of the Quaker's Friends Service Committee. From 1945-1947, she assisted a post-war relief effort provide food and education programs as an extension of Finnish-Canadian wartime cooperation. The operation helped the local population survive their first winter, providing clothing and food to more than 23,000 children. Dr. Groves documented this experience in her 1989 book Winter into Summer: Lapland Diary, 1945-1946.
After completing her PhD, Dr. Groves began working at McMaster University, where she re-established and led its Department of Fine Arts until 1958. Influenced by her interest in Barlach, the McMaster Museum of Art acquired many German expressionist pieces and currently houses some of Naomi Groves' paintings. Many of her other paintings are held in national and international collections including those of The National Gallery of Canada, and the Robert McLaughlin Art Gallery. She also exhibited her work with the Royal Canadian Academy of Arts in 1934 and with the Art Association of Montreal from 1934 to 1943.
In recognition of her lifelong contributions, Dr. Groves was awarded the Order of Canada in 1993. She also received honorary doctorates in literature from McMaster University in 1972 and from Carleton University in 1990.
Naomi Groves led a life of service, academic success and artistic endeavours. Her passion and talent for art, linguistics and teaching have left a significant legacy to Canadians.
Biography written by Robin Kennedy
Sources
En.wikipedia.org. 2021. Naomi Jackson Groves. [online] Available at: <https://en.wikipedia.org/wiki/Naomi_Jackson_Groves> [Accessed 16 February 2021].
Fineartandantiques.ca. 2021. Naomi Groves Jackson | St. Sauveur int Hill 70 | Fine Art and Antiques. [online] Available at <http://www.fineartandantiques.ca/Gallery%20Pages/PaintingsPages/galleryjacksonNaomi.html> [Accessed 16 February 2021].
Lindström, V., 2021. Winter into Summer: Lapland Diary 1945–1946 by Naomi Jackson Groves (review). [online] Muse.jhu.edu. Available at: <https://muse.jhu.edu/article/574157/pdf> [Accessed 16 February 2021].