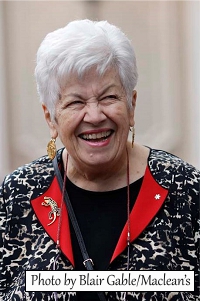 Monique Bégin
Lifetime Contribution
Monique Bégin has worked her entire life to build a better Canada and, indeed, a better world by embracing opportunities to directly influence social improvement and reduction of poverty. She has contributed as an advocate, a public servant, a Minister of the Crown, and an academic to overturning centuries of oppression of women from organizing evidence of its existence to leading legislative change including key support for the women's equality provisions within the Charter of Rights and Freedoms. In addition, her political acumen and leadership that ensured the passage of the Canada Health Act have continued to benefit us all.
Born in Rome in 1936 to a Flemish Belgian mother and a French-Canadian father, the Bégin family moved to Paris a few months after her birth. In September 1939 when WW II was declared, the family relocated to a tiny village in southern France where her father commuted by train on weekends to and from his work in Paris.
In April of 1940, the family returned to its home in Paris until the city was bombarded and occupied in June of the same year by the Luftwaffe. This resulted in an exodus that included the Bégin family who stayed eight months in the empty attic of a barn in Périgueux before traveling to Spain where the Bégins resided for 5 months in Lisbon. It was a place of refuge while the family waited for Canadian assistance in the form of transportation by ship to New York and then by train to Montreal, arriving on August 21, 1941. By then, Monique Bégin was 5½ years old.
After 12 years of public schools and two years at the Rigaud Teachers' College, Ms. Bégin became a teacher. Her dream, however, was to study and to attend university. At the time, entering university in Quebec required eight years in expensive private classical colleges. She left her low-paying teaching job and became a full-time secretary in Social Work at the University of Montreal. At the same time, she enrolled in "teachers" courses working towards a B.A. followed by an MA degree in sociology which she attained in 1961. Shortly afterward, she departed for Sorbonne in Paris where she pursued her Ph.D.
Upon returning to Montreal, Ms. Bégin worked within a small group of innovative applied social research while co-founding the Federation of Quebec Women in 1966 and was elected as its first Vice President. In April of 1967, at the age of 31, she was appointed as the Executive Secretary of the Royal Commission on the Status of Women (RCSW) in Canada. Her responsibilities included establishing and organizing a management team, a research program, and public hearings.  Other duties included providing the report's text and recommendations and supporting the seven Commissioners appointed by the Rt. Hon. Lester Pearson. The Commission had an ambitious outreach program that asked women "What do you have to say about the status of women?"
RCSW received 468 briefs and an estimated 1000 letters of opinion. In a series of public hearings held across Canada, the commissioners heard from 890 witnesses. The resulting report was tabled in the House of Commons on December 7, 1970, and was ground-breaking with 167 recommendations encompassing issues regarding women in education, women in the Canadian economy, taxation and child-care allowance, women and the family, women in society, poverty, immigration, criminal law and women offenders, and more. This report and the implementation of recommendations set forth a path towards real and substantive gender equality for decades to follow. Ms. Bégin was at the heart of the organization and managed the team, the work program, and the publication of the findings.
In 1972, Monique Bégin was nominated to stand as a candidate for the Liberal Party of Canada in the Montreal riding of St. Michel. She was one of the first three women from Quebec then elected to the House of Commons in the election. In 1974, she was re-elected in the new neighbouring riding of St. Leonard-Anjou. Appointed Parliamentary Secretary to the Minister of External Affairs Allan J. MacEachen in mid-October 1975, Prime Minister Pierre E. Trudeau then appointed her Minister of National Revenue in 1976 where she led two quite distinct branches of Taxation and Customs and Excise. Within the year, her responsibilities grew to include nine branches with a deputy minister for each.
The following year, she was appointed Minister of National Health and Welfare, the biggest portfolio at the time, and remained in this capacity until 1979. She was reappointed to this position from 1980 to 1984 and on April 9, 1984, the Canada Health Act was enacted by unanimous consent. This was a noteworthy accomplishment that came on the heels of years of bitter opposition. This legislation also set forth five standards of health care services: public administration, comprehensiveness, universality, portability, and accessibility. Another accomplishment of which Ms. Bégin has been immensely proud is the Child Tax Credit that began under her tutelage.
Following her time in public office, Ms. Bégin returned her focus on academia. A visiting professor at the University of Notre Dame for a year followed by a year at McGill, she was selected for a new full-time position as the Joint Chair in Women's Studies at the University of Ottawa and of Carleton from 1986 to1990. She was then selected by the University of Ottawa as the first Dean of the New Faculty of Health Sciences (all except medicine), a position she held for seven years until the summer of 1997. Midway through her tenure, she served as a commissioner on the International Commission on Population and Quality of Life and served as Co-Chair of Premier Bob Rae's Ontario Royal Commission on Learning, the report of which is still considered a landmark for grades one to twelve.
As a volunteer, Monique Bégin served on many boards. She was Chair of the Canadian Breast Cancer Foundation (1995-99) and of the Radiation Safety Institute (1997 – 2003). She was a member of the Board of Governors of McGill University (1986-1990), Board Member of the University of Ottawa Heart Institute (1999-2004), Board member of the Clinical Research Institute (1998-2005) in Montreal, and a member of the Science Council of Canada "Genetic Predisposition Study Committee" from 1987 to 1991.
In 1997, Ms. Bégin was made an Officer of the Order of Canada and was elevated to Companion in November 2020. She received 18 honorary doctorates from Canadian universities and in 2018, she published the memoir Ladies, Upstairs!: My Life in Politics and After.
Ms. Bégin's long-serving public commitment, both as a politician and academic, has been filled with a portfolio of extraordinary issues including the status of women, taxation, income inequality, universal income, childcare benefits and allowances, standards of healthcare, service delivery and social impacts of health inequality, gender studies, and education to name a few. Canada is a better place because of her body of work, heart, and soul that has positively impacted public policy.