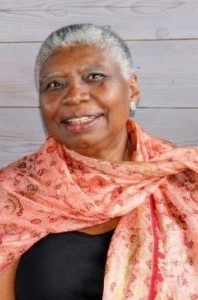 Margaret Moyston Cumming
Lifetime Contribution
Margaret Moyston Cumming was a visionary whose energy and organizational talents have left a lasting legacy.
As a registered nurse-midwife, a public health nurse, nursing instructor, public servant, and community leader, Ms. Moyston Cumming chartered a career path that was guided by deep principles of service to others and of justice.
Born in Jamaica, Margaret Moyston Cumming's family moved to England where she finished high school and then studied nursing in Birmingham. Upon graduation, she practised nursing in the UK for two years before moving to Canada and began working as a hospital nurse in St. Catharines and then as a surgical nurse in Ottawa. In 1968, she and her husband moved to Uganda where she first worked as a pediatric nurse and then in the British Medical Research Council's Child Nutrition Unit in Kampala. Her experiences in Uganda sparked a strong interest in public health that would ultimately guide her future studies and career choices.
Following her return to Ottawa in 1970, Ms. Moyston Cumming worked as a staff and geriatric nurse at the Riverside Hospital, Civic Hospital, and St. Michael's Nursing home, while concurrently studying at the University of Ottawa. Upon completing her BSc in Public Health Nursing in 1972, she moved east for six years and worked as a Community Health Nurse in rural Nova Scotia and then as a School Nurse in New Brunswick. In 1975, she accepted a position as Clinical Lecturer in Community Health Nursing at the University of New Brunswick.
In 1980, Margaret Moyston Cumming returned to Ottawa where she continued teaching. She worked part-time as a Clinical Instructor in Obstetrics, Maternal, Pediatric and Child Health at the University of Ottawa Nursing School. At the same time, she began a Masters in Social Work (MSW) at Carleton University with a focus on public health policy. She completed her MSW in 1985 and joined Health Canada later that year and there she held several positions including secondment to the Royal Commission on New Reproductive Health Technologies as Research Co-ordinator. Prior to her retirement, she was Director for Policy, Planning, Research, Evaluation and Circumpolar Health at Health Canada's Northern Secretariat with responsibility for health services in the Yukon, Nunavut and the Northwest Territories. Through this position, she negotiated major funding agreements with all three territories.
Ms. Moyston Cumming's deep devotion to community, children, schools, church outreach programs, professional associations, and non-governmental organizations is exemplified through her community service.
In 1975, she joined the New Brunswick Association of Registered Nurses and soon became a member of the Legislative and Credentials Committees of the Provincial Association. She was also elected as a Board Member of the Planned Parenthood Association in Fredericton and became a member of its Sex Education Taskforce where she volunteered as an instructor for middle school children on human sexuality and for post-natal women regarding family planning.
In Ottawa, during the early 1980s, Margaret Moyston Cumming joined the home and school Associations for both First Avenue and Hopewell Public Schools. As a member of community leaders, she was instrumental in keeping the schools open in response to threats of closure by the Ottawa Board of Education. In addition, from 1998 to 2002, she was a Member of the Board and Executive Committee of Somerset West Community Health Centre that serves one of Ottawa's most economically and ethno-culturally diverse neighbourhoods.
After retiring in 2007, Ms. Moyston Cumming volunteered for ten years – first at St. Anthony's Catholic School and later at Riverview Alternative School – working with students often from immigrant families who needed extra assistance. She also served as a Board member of CANUGAN, an Ottawa-based organization supporting people with disabilities in Uganda.
For nearly three decades Margaret Moyston Cumming served Southminster United Church in many capacities including as Chair of the Council. One of her many gratifying achievements was as founder of Southminster's "Out of the Cold Suppers" which she volunteered passionately to help develop into a success. Today, this important program continues to offer free hot meals to some of Ottawa's most vulnerable residents.
In 1991, Ms. Moyston Cumming was appointed to the Ottawa-Carleton District Health Council by a Government of Ontario Order in Council for a three-year term. Through this position, she helped broaden public health policy; link policy with practice; and expand cooperation with academics, governments, and health advocates in addressing Health Promotion, Primary Care, and Children's Services. In addition, she was a member of the group that oversaw the Council's annual grants and encouraged start-up funding that could seed permanent supports for Ottawa's most disadvantaged people.
Margaret Moyston Cumming's wisdom, generous smile, and wicked sense of humour were inspiring to all who knew her.