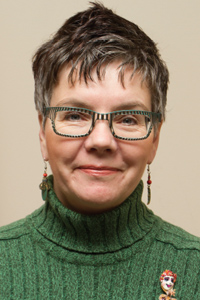 Lucie Marleau
Women of Inspiration
Lucie Marleau is one of the most dedicated volunteers in her community. Her work in Crime Prevention in Vanier has enabled it to be one of the most advanced communities in this field. As a result, she is recognized by many organizations across the city, such as the Community Development Framework and Crime Prevention Ottawa; and Vanier is, de facto, an example used by many communities and community associations that often come to draw inspiration from the practices implemented in the community.
Lucie Marleau is an incredible leader. More than 10 years ago, she founded Vanier's Crime Prevention Program that makes everyone feel safer in Vanier. She has set up and still manages 14 Neighborhood Watches, which have nearly 250 members. To allow the community to live and play safely, she has also developed initiatives such as, Turn on your Light, Halloween Safe Zone, and Eyes on Vanier Walkabout (a project that received an award in 2009). She also founded the Vanier Community Association (2008), the Vanier Beautification Committee, as well as the Vanier Community Association's Safety Committee in 2017.
Ms. Marleau has received a number of awards and distinctions including, the Marc Chaput Award (the most prestigious prize in Vanier) (2017); Queen Elizabeth II Diamond Jubilee Award (2012); winner of the 2010 United Way Community Builder of the Year Award (given to a neighbourhood group that strives tirelessly, passionately and collectively to help make a community a better place in which to live); winner of the 2009 Ontario Association of Chiefs of Police Community Mobilization Award as a member of Together for Vanier (granted to a community that has exhibited exemplary on-going efforts designed to make their neighbourhood a safer, more secure place to live); and 2012 Volunteer Program Award winner, Crime Prevention Ottawa Community Safety Awards.