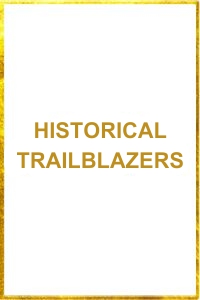 Lotta Hitschmanova
Historical Trailblazers
Lotta Hitschmanova was a Canadian humanitarian who helped found the Unitarian Service Committee of Canada (USC), now called SeedChange. Each year, she travelled to war-torn and impoverished towns and villages worldwide, offering Canadian support to recover from war, disease, drought, and poverty.
Ms. Hitschmanova was born in Prague, Bohemia (now Czech Republic), and attended Stephans Gymnasium, a coeducational high school, where she graduated with honours. In 1929, she enrolled in the school of Philosophy at the University of Prague where she excelled at languages earning diplomas in Czech, German, English, French, and Spanish. In 1932, she went to Paris and studied political science and journalism at the Sorbonne Institute.  There, she obtained diplomas in journalism and French studies. In 1935, Ms. Hitschmanova returned to Prague to work as a freelance journalist and at the same time completed her PhD at Prague University.
When Germany seized a third of Czechoslovakia following the Munich Agreement of September 30, 1938, Lotta Hitschmanova fled the country to Belgium. She worked there as a journalist; however, following the country's invasion by German troops, she escaped to Marseilles, France, and became employed at an immigration services agency that assisted refugees.
Ms. Hitschmanova escaped from Europe and sailed to New York in 1942. After delivering a USC report in Boston, she departed for Canada which had granted her a visa as a political refugee, unlike the United States. Within days, she found secretarial employment at a Montreal firm. Two months later, she moved to Ottawa to accept a position as a postal censor for the Department of War Services. During this time, she joined the Czechoslovakian National Alliance and helped raise money for Czech War Services in London, England. She also worked briefly for the United Nations Relief and Rehabilitation Administration.
In June 1945, Lotta Hitschmanova helped organize the Canadian branch of the USC, an international development organization consisting of a small group of aid workers sending supplies to war-torn Europe for relief and reconstruction. As USC's Executive Director, Ms. Hitschmanova was the driving force behind the organization. On August 29, 1945, USC Canada became registered under the War Charities Act. Initially, it was only allowed to raise money from Unitarians but in February 1946 the appeal was extended to all Canadians.
In the spring of 1946, Ms. Hitschmanova set off on a three-month tour of western Canada to appeal for funds and clothing and in the summer of the same year, she travelled to Europe to assess the conditions. Based on her observations, Ms. Hitschmanova recommended that the organization focus on physically disabled children. Canadians sent food, money, and prosthetic limbs for injured children. Under her direction, USC Canada started a foster parent program where Canadians could sponsor a child for which they would receive a photo and a story. Ms. Hitschmanova was named as USC Canada's first Chairperson and served in this capacity until 1949.
In 1949, Lotta Hitschmanova advised the USC to focus its effort in Italy and Greece and this continued until 1979. In 1950, USC expanded its programs to other parts of the world. From the early 1950s to the late 1970s, Korea was a major recipient of relief funds. USC Canada also set up programs in 20 other countries including India, Nepal, Vietnam, Lesotho, and Indonesia. During this period, Lotta Hitschmanova would fundraise in Canada for three months of the year and then spend four months overseas to supervise USC Canada programs.
In 2019, the USC updated its name to SeedChange (Sème l'avenir in French) to better reflect the organization's mission and history, and to attract a new generation of supporters. Today, SeedChange continues to operate in Ottawa and, since the early 2000s, has focused its work on small-scale farmers in 12 countries, including Canada. Its current mission is to "build food sovereignty by working with partners to enhance biodiversity, promote ecological food systems, and counter inequity."
While she never served in an army, Ms. Hitschmanova created a USC Canada uniform to comply with a requirement at that time that UN workers had to wear an identifiable uniform. The outfit was comfortable and reduced the number of clothes she needed and enabled her to travel more easily across borders and access refugee camps. Today, Ms. Hitschmanova's uniform has been preserved at the Canadian War Museum and it has been featured at the Canadian Museum of Immigration at Pier 21 to highlight her work with refugees.
In 1970, Lotta Hitschmanova wrote a book about her experiences working for USC Canada entitled, The USC Story: A Quarter Century of Loving Service by the Unitarian Service Committee. Through her fundraising efforts, the USC raised an outstanding total of 128.9 million dollars between 1945 and 1984.
In recognition of her exceptional service, Lotta Hitschmanova was awarded the Gold Medal from the Cross of France (1950) and the Medal of St. Paul from Greece (1952). She also received the Canadian Centennial Medal; the Queen Elizabeth II Silver Jubilee Medal; the Republic of Korea: Order of Civil Merit; Médaille de la Reconnaissance française; United Nations Headquarters Medal; and, the Decoration for Order and Peace, 1945-1949 from the Netherlands. In 1968, Ms. Hitschmanova was made an Officer of the Order of Canada and was promoted to Companion in 1979.
The City of Ottawa proclaimed November 28, 2009, as "Dr. Lotta Hitschmanova Day" in recognition of the 100th anniversary of her birth. The proclamation noted that Dr. Hitschmanova 'dedicated her life to helping people in far-off lands' and 'helped mobilize Canadians from coast to coast to coast, putting Ottawa on the map as not only a seat of national government and political debate, but also a center of Canadian concern for the rest of the world.'
In addition, Dr. Hitschmanova had an oat variety named after her. Vernon Burrows, a renowned Canadian scientist specializing in oat research, called one of his new oat varieties the ACLotta. In 2002, USC Canada created the Lotta Hitschmanova Endowment Fund.
Dr. Hitschmanova represented Canadians at their best by alleviating human misery thousands of miles away from home.
Written by Barb Koppe
Sources
Dreskin, N., 1967. If you haven't met Lotta Hitschmanova, it's probably because you aren't starving, sick or homeless in a foreign land | Maclean's | SEPTEMBER 1967. [online] Maclean's | The Complete Archive. Available at: <https://archive.macleans.ca/article/1967/9/1/if-you-havent-met-lotta-hitschmanova-its-probably-because-you-arent-starving-sick-or-homeless-in-a-f> [Accessed 19 February 2021].
En.wikipedia.org. 2021. Lotta Hitschmanova. [online] Available at: <https://en.wikipedia.org/wiki/Lotta_Hitschmanova> [Accessed 19 February 2021].
Grohsmeyer, J., n.d. Lotta Hitschmanova, Mother of a Thousand. [online] UUA.org. Available at: <https://www.uua.org/re/tapestry/youth/virtueethics/workshop5/hitschmanova> [Accessed 19 February 2021].
Ouellette, J., 2009. Honouring Women in the City of Ottawa. [online] Womeninottawa.blogspot.com. Available at: <http://womeninottawa.blogspot.com/2009/09/streets-and-places.html> [Accessed 19 February 2021].