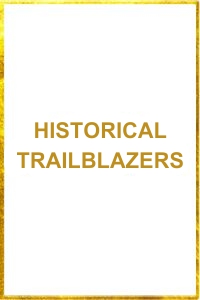 Lillian Bilsky Freiman
Historical Trailblazers
Fondly referred to as "The Poppy Lady", Lillian Bilsky Freiman was a gifted organizer, administrator, and Jewish-Canadian philanthropist of national historic significance whose efforts helped improve the health and welfare of fellow citizens.
Born in Mattawa, Ontario in 1885, Ms. Freiman's benevolent role in Canadian society began at the outbreak of World War One with the creation of a sewing circle that became a Disraeli Chapter of the Daughters of the Empire. Setting up 30 sewing machines in her home, Ms. Freiman organized the production of clothing and blankets for soldiers fighting overseas. She later co-founded The Great War Veterans' Association, Canada's largest organization of its kind and predecessor to the Royal Canadian Legion. In appreciation, Ms. Freiman was made an honorary member for life, the first woman ever granted this standing.
In 1918, the Mayor of Ottawa, who was familiar with Ms. Freiman's extraordinary organizational skills, asked her to coordinate a 1500-person volunteer relief effort to help address the devastating outbreak of the Spanish Flu. Among the activities she initiated was a public information campaign aimed at preventing the spread of the disease.
Even as the war ended, Ms. Freiman's efforts on behalf of veterans did not. She became a member of the National Poppy Advisory Committee and was Chair of Ottawa's annual poppy campaign almost every year until her death. The first poppies made in Canada were crafted by Ms. Freiman in her living room and her role in popularizing them as a symbol of remembrance gave rise to her affectionate nickname. Increasingly associated with the war effort since the dissemination of John McCrae's poem "In Flanders Fields," the poppy became an instantly recognizable method of fundraising for veterans' causes. Poppy production was taken over eventually by the Vetcraft Shops, whose creation Ms. Freiman had helped inspire in 1919 as a means of creating employment for returning soldiers.
It was not only veterans who were the subject of Ms. Freiman's postwar humanitarian attentions. In 1921, she assisted approximately 150 Jewish orphans of the war in emigrating from Ukraine to Canada, one of whom was adopted by Ms. Freiman and her husband. She also chaired the United Palestine Appeal in 1934 and was the founder of the Canadian Hadassah, a woman's Zionist Organization. Under her 21-year leadership, the organization grew to 68 Chapters totalling 4,500 women.
Ms. Freiman's many other philanthropic roles included the Ottawa Welfare Bureau, the Protestant Infants Home, the Canadian Institute for the Blind, the Red Cross Society, the Amputations Association of Great War Veterans of Canada, the Salvation Army, the Big Sisters' Association, the YMCA, and the Joan of Arc Society. She was also actively involved with the Girl Guides Association, the Ladies Hebrew Benevolent Association, the Ladies Auxiliary of Adath Jeshurun Congregation and the Ladies Auxiliary of B'nai B'rith.
Among the many accolades she received for her tireless work, Ms. Freiman was awarded the Order of the British Empire. Bestowed upon her by King George V in 1934, Lillian Freiman was the first Jewish Canadian to receive this honour. In 1924, delegates of the Canadian National Convention named a school after Ms. Freiman and, in 1957, her Victorian-style mansion was converted into the Ottawa Army Officers' Mess. In further recognition of her extensive contributions, an exhibit on her life was curated by the Bytown Museum and she was named a Person of National Historic Significance by the Canadian Government in 2008.
Lillian Bilsky Freiman was an inspirational leader whose exceptional humanitarian endeavours have left a lasting legacy, not solely in Ottawa, but nationally and internationally.
Biography written by Robin Kennedy
Sources
Biographi.ca. 2021.Biography – BILSKY, LILLIAN (Freiman) – Volume XVI (1931-1940) – Dictionary Of Canadian Biography. [online] Available at: <http://www.biographi.ca/en/bio/bilsky_lillian_16E.html> [Accessed 25 January 2021].
Gillis, M., 2021. Capital Facts: An Ottawa Woman Introduced The Remembrance Day Poppy To Canada | Ottawa Citizen. [online] Ottawacitizen.com. Available at: <https://ottawacitizen.com/news/local-news/capital-facts-an-ottawa-woman-introduced-the-remembrance-day-poppy-to-canada> [Accessed 25 January 2021].
 En.wikipedia.org. 2021. Lillian Bilsky Freiman. [online] Available at: <https://en.wikipedia.org/wiki/Lillian_Bilsky_Freiman> [Accessed 25 January 2021].