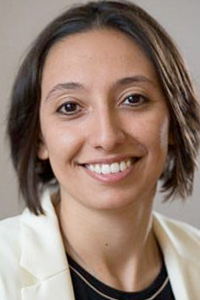 Lauren Touchant
Community Pillars
Lauren Touchant's educational journey is a reflection of her deep community and social commitment. Her accumulated work and volunteer experience is all the more impressive when you consider the workload required to conduct advanced studies. The scholarships and prizes awarded to her reflect not only the exceptional quality of her academic work but also that of her community and volunteer work.
First, Ms. Touchant is currently completing a Doctorate in Public Administration at the University of Ottawa. She already has a Master's in Public and International Policies, after having studied political science, international relations and geography (governance of sustainable development). As a volunteer researcher with Dr. Stockdale, she contributed to the Boiler Falls project and the Zibi project in Ottawa (2018) related to social acceptability, public consultation, Aboriginal affairs and energy. Lauren Touchant was a panelist at the Smart Cities Conference organized by the Women's Infrastructure Network in Ottawa (2018). She gave a presentation to the Planning Committee of the City of Ottawa on political coherence in decision-making, with regards to housing policy and the case of the Salvation Army in Vanier (2017); followed by an article on the City of Ottawa's housing and homelessness policy (2018).
In the National Capital Region, Lauren Touchant is an active volunteer with the Vanier Community Association, among others. Since joining in 2015, she has brilliantly exercised her leadership as President of the Association from 2016 and as Chair of various committees, including Vanier Safety Committee (2016-present), Francophonie de Vanier (2017-present), and Beautification Committee (2018-present). The Vanier community is better equipped to claim services, to take charge and to celebrate its identity. She currently represents Vanier on the Salvation Army project and program review committee and is also working on a poverty reduction strategy, a community emergency plan and the establishment of a community development fund. She is the co-founder and co-manager of the poverty reduction strategy in Ottawa-Vanier in partnership with community associations in Manor Park and Overbrook. Further, Ms. Touchant received $ 10,000 to hire a consultant who will help submit a report of recommendations in support of Councilor King's commitment for proposing a poverty reduction strategy to City Council.
Ms. Touchant sits on the Organizing Committee for the Right to Housing March in Ottawa. The objective is to promote a paradigmatic change in municipal policy regarding the fight against homelessness and housing policy. Based on research by Tim Aubry and Housing First programs, the group is promoting the Housing First approach to end homelessness.
In 2015, Lauren Touchant created the organization You and Me International Foundation headquartered in Ottawa. Its mandate is to support people of all ages and all walks of life to overcome social and economic barriers in order to build and maintain strong and vibrant communities. Its three goals aimed at enhancing the dignity and well-being of community members are reducing poverty, success through education, and the integration of newcomers. Programs are designed for seniors and youth, and activities are carried out for newcomers to Canada, including courses for English and French as a second language. As an advisor, Lauren Touchant supports the Board of Directors in the management of good community governance and in the creation of projects and activities.
On November 27, 2019, the Community Foundation of Ottawa declared incubator13 the winner of the Community Renewal Competition and awarded it $125,000. Incubator13 was founded by Lauren Touchant who is now serving as the project's special advisor. It is a bilingual self-employment and entrepreneurship program that provides coaching and support to young entrepreneurs, as well as employment and skills training services for young people under the age of 30. As a result, young people are able to get out of unemployment either by starting a business or by developing various skills through pre-employment training and experiential learning. This program contributes to increasing the positive impact on the socio-economic development in Ottawa's Ward 13, Rideau-Rockliffe.
Lauren Touchant received the Ontario Award for Women and Girls Leaders in Community Development (2018); First prize of the Conference in Public Administration (doctorate) at the University of Ottawa (2015); 15 first national finalists for the University of Ottawa Community Research Scholarship for "les saviors de la gouvernance Communautaire" (2013); and BESC Vanier Scholarship (3 years), Scholarship for Excellence – University of Ottawa (2015-2019) and Admission Scholarship (2014).