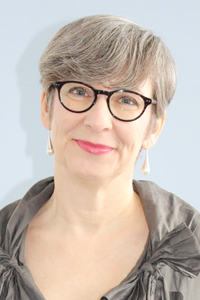 Johanne Leroux
Community Pillar
Johanne Leroux is extremely dedicated to her community and, in particular, advocating for the rights and needs of Francophone and LGBTQ+ minorities. Over the course of her career in music education, arts administration and identity building, and through volunteer involvement, Ms. Leroux has received numerous awards that highlight her contributions in the community. In February 2019, she received the Laurier Claudette-Boyer Award, Citizen of the Year, awarded by Association des communautés francophones d'Ottawa (ACFO) in recognition of her commitment to the advocacy of the Francophonie in the Ottawa Bilingual Project, her involvement on the City of Ottawa French Language Services Advisory Committee and her contribution to Ottawa Senior Pride Network. Moreover, the French training team of the Network will receive the City Builder Award of Ottawa on March 25th 2020.  During her professional career in education, Ms. Leroux obtained prestigious teaching awards including the Laurier for education intervener from ACFO d'Ottawa (2013) and the teaching award of the OTIP Francophone teacher category, from the Ontario Teachers' Federation (2004).
Since 1985, Johanne Leroux has been a volunteer dedicated to her community. Her accomplishments are numerous and noteworthy: Representative of LGBTQ2S communities on the bilingual Ottawa framing committee of the Association of Francophone Communities of Ottawa (ACFO) (2019-present); Elected Secretary of the Vanier Community Association (2018-present); Ottawa Elder Pride Network Volunteer Trainer (2019 – present); Chair of the City of Ottawa French Language Services Advisory Committee (2015-2018); Premier of Ontario Excellence in Education Awards Jury (2009); Member of the Board of Directors of La Nouvelle Scène (representative of the Théâtre de la Vieille 17) (2008-2010); Builder, artistic and technical direction, CEPEO organizing committee of the Monument de la Francophonie in Ottawa, École Charlotte-Lemieux (2006-2007); President and member of the Board of Directors of Théâtre de la Vieille 17 (2004-2013); Radio-Canada Readers' Jury, Jean-Marc Dalpé Jury president (2005); elected teacher representative on the De La Salle School Council (1999-2005); and, Director of the Board and President of the Programming Committee, Alexandria's Cultural Centre Les trois p'tits points (1985-1986).
Johanne Leroux's involvement in her community is unequivocal. As President-elect of the City of Ottawa's French Language Services Advisory Committee, she has been a strong advocate of the interests and language rights of Francophones in relation to the City of Ottawa's bilingualism law. In a city in which French and the Francophonie are historically important, this position of President of the advisory committee is more than central for the thousands of Franco-Ontarians in Ottawa who are affected daily regarding decisions made by the City. If no longer working on the advisory committee, Johanne Leroux ardently continues to defend the Francophonie as Secretary of the Vanier Francophonie Committee. She is one of six women trying to protect the Franco-Ontarian heritage of Vanier in addition to reviving its Francophonie. One of the more significant results is that of the Carré de la Francophonie that was created on Dupuis Street. Ms. Leroux, in collaboration with Suzanne Lépine, solicited the help of Councillor Mathieu Fleury to support a municipal motion which led to the official creation of the Carré de la Francophonie. Thanks to their efforts, the Carré was inaugurated on September 25, 2019, Franco-Ontarian Day.
It is also important to highlight Johanne Leroux's remarkable involvement with the LGBTQ + community. Her work is essential in supporting Francophone seniors who are often marginalized and isolated in our community. Reducing isolation is all the more important when they are actually members of the LGBTQ community. Ms. Leroux's work is essential because she informs social services and health care services on the need to take into account the well-being of LGBTQ  seniors at the end of their life or when placed in short or long-term establishments. Much work remains to be done to ensure that these LGBTQ seniors are treated properly and with dignity.
Johanne Leroux is a devoted "Vaniéroise" who has a passion for helping her neighbours. Her devotion and contribution to Franco-Ontarians and LGBTQ seniors makes a difference to the communities of Vanier and Ottawa.