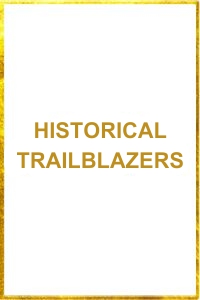 Jeanne Mathilde Sauvé
Historical Trailblazers
Jeanne Sauvé was a journalist, politician, and stateswoman whose extraordinary career has been revered by firsts – first female Cabinet member from Quebec, first woman elected as Speaker of the House of Commons, and first woman to serve as Governor General.
Ms. Sauvé's interest in politics began as a young adult. While working for the government of Canada as a translator to pay for tuition, she studied at the University of Ottawa where she became actively engaged in student and political affairs. In 1942, she became National President of the Young Catholic Students Group.
In 1950, she moved to Paris, where Ms. Sauvé was employed as the assistant to the director of the Youth Secretariat at UNESCO and, in 1951, she enrolled for one year at the Sorbonne, graduating with a degree in French civilization.
She returned to Canada in 1952 and, in 1959, she became a founding member of the Institute of Political Research. At the same time, she was hired as a journalist and broadcaster with the CBC's Radio-Canada. Following the success of her first radio program, she moved to CBC television where she covered political topics on both radio and television. Her broadcasting career however flourished when she was given her own television show, Opinions, where she hosted topics considered to be taboo during this time including, teenage sex, parental authority and student discipline. The show ran from 1956 to 1963.
In 1972, Jeanne Sauvé ran as a federal candidate in the Montreal riding of Ahuntsic. She won the seat and became one of only five women MPs at that time. Subsequently, she was sworn into the Queen's Privy Council and appointed Minister of State for Science and Technology in the Liberal Cabinet. She became the first female from Quebec to become minister of the Crown and the only woman in the Cabinet. Following her re-election two years later, she was assigned the Environment Portfolio until 1975 when she was appointed Minister of Communications.
In the 1979 election, Ms. Sauvé won the riding of Laval-des-Rapides within a minority government and, following the federal election of 1980 that resulted in a Liberal majority, she was appointed as Speaker of the House of Commons. In this capacity, she was prudent in the management of staff and expenses of the House of Commons resulting in a significant reduction in excess bureaucracy, personnel, and expenses. She was praised for saving $18 million in annual costs and improving overall services. At the same time, she established the first daycare for Parliament Hill staff, MPs, and senators.
As Speaker, she presided over debates on the constitution, dealing with filibusters and numerous points of order, along with discussions over the proposed Energy Security Act.
From 1984 to 1990, Jeanne Sauvé served as Canada's twenty-third Governor General where she promoted national unity, peace, and youth. She became the first female governor general in Canada's history, and the only second woman among all of the Commonwealth realms to assume the equivalent office in history.
In her capacity as vicereine, she accepted the Nansen Medal on behalf of the People of Canada and, two years later, she opened the XV Olympic Winter Games in Calgary, Alberta. She also hosted, at Rideau Hall, the annual Christmas party for the Ottawa Boys & Girls Club and the Patro d'Ottawa inviting the children to visit with Santa Claus and attend a lunch in the Tent Room.
In 1988, she was presented with royal Letters Patent that permitted the federal viceroy to exercise the Queen's powers with respect to the granting of heraldic arms in Canada. This led to the eventual creation of the Canadian Heraldic Authority where Ms. Sauvé became its first head.
Her achievements have been crowned with a legacy of helping youth. In commemoration of her visit to Brazil, she established the Governor General Jeanne Sauvé Fellowship (awarded each year to a Brazilian graduate student in Canadian studies); the Sauvé Foundation (that develops leadership potential of youth from across the globe); and the Sauvé Scholars Program (where young people are invited to attend classes at McGill University to work on individual projects and expand their understanding of the world). With regards to sporting, she formed the Jeanne Sauvé Trophy (for the world cup championship in women's field hockey) and the Jeanne Sauvé Fair Play Award (in recognition of national amateur athletes who best exhibit fair play and non-violence in sport).
Jeanne Sauvé's extensive career and public service has resulted in a number of appointments, awards and recognitions. She was appointed Chief Scout of Canada (1984-90) and Honorary Member of the Royal Military College of Canada Club (1984-93). She also was recipient of a number of medals including the Canadian Centennial Medal (1967), Queen Elizabeth II Silver Jubilee Medal (1977), Canadian Forces Decoration (1984), Commemorative Medal for the 125th Anniversary of the Confederation of Canada (1992) and Médaille de la Chancellerie des universités de Paris (1989). She has been bestowed with Honorary degrees from Queen's University, Doctor of Laws (LLD) (1986); Chulalongkorn University, Doctor of Political Science (DPSci) (1987); and University of Regina, Doctor of Laws (LLD) 1991.
Other commemorations include buildings and schools that have been named in her honour such as  Fort Sauvé (Kingston),  École Jeanne-Sauvé (Orléans), École publique Jeanne-Sauvé (Sudbury), Jeanne Sauvé Catholic School (Stratford), Collège Jeanne-Sauvé (Winnipeg) and, Jeanne Sauvé French Immersion Public School (London, St. Catharines, and Oshawa). Further, she is the namesake for organizations such as Jeanne Sauvé Family Service in Ontario, and Jeanne Sauvé Foundation and Jeanne Sauvé House in Quebec.
One year following her death, a postage stamp bearing her image was issued by Canada Post.
Sources 
En.wikipedia.org. 2021. Jeanne Sauvé. [online] Available at: <https://en.wikipedia.org/wiki/Jeanne_Sauv%C3%A9> [Accessed 29 January 2021].
The Governor General of Canada. 2021. Jeanne Sauvé. [online] Available at: <https://www.gg.ca/en/governor-general/former-governors-general/jeanne-sauve> [Accessed 29 January 2021].