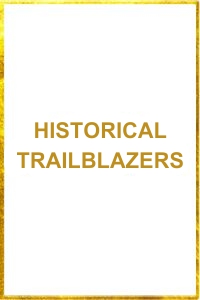 Flora MacDonald
Historical Trailblazers
Flora MacDonald was a Canadian politician and trailblazer who helped break down barriers for women seeking high office in Canada.
As a young adult working as a bank teller, Ms. MacDonald saved enough money to travel to Europe in 1950. While abroad, she travelled across England and Scotland and hitchhiked through other European countries, bearing witness to the effects of the last war. In England, she met with and assisted nationalists who on December 25, 1950 stole the Ancient Stone of Destiny from Westminster Abbey and returned it to Scotland.
Shortly thereafter, she returned to Canada and began working in politics. Her career started in the national office under Progressive Conservative Party leader John Diefenbaker where she worked as the party chairman's secretary assisting with Mr. Diefenbaker's 1957 and 1958 election campaigns. In 1958, she became secretary in the office of Prime Minister John Diefenbaker.
In 1972, Flora MacDonald was elected the Progressive Conservative Member of Parliament for the Ontario riding of Kingston and the Islands, a position that she held until 1988. During this period, she was made Canada's first female Secretary of State for External Affairs by Prime Minister Joe Clark in 1979.
During her tenure, Ms. MacDonald was faced with various humanitarian crises. She contended with the post-war Vietnamese Boat People refugee crisis by co-developing a plan that allowed more than 60,000 Vietnamese refugees to enter Canada. By having the federal government match the number of sponsored refugees in proportion to sponsorships from the general public, the number of refugees assisted was doubled. She also encountered the Iran hostage crisis, later to be known as the "Canadian Caper" that inspired the award-winning film Argo. Six American diplomats that had been seized by radical Iranian students in the American embassy sought refuge in the Canadian embassy in Tehran. With utmost secrecy, Flora MacDonald permitted the hostages to pose as Canadians and provided them with false passports and money thus enabling them to escape as members of the departing Canadian staff on January 28, 1980.
That same year, the PC party lost the federal election and Ms. MacDonald worked as a Critic for External Affairs, her old cabinet portfolio.  She, however, returned to government four years later following the Progressive Conservative victory in the 1984 election. She first worked as Minister of Employment and Immigration and in 1986 as Minister of Communications. She held this position until 1988 when she quit politics in order to dedicate her efforts to international humanitarian work, collaborating with charities such as Oxfam, CARE, the Carnegie Commission on Preventing Deadly Conflict, International Centre for Human Rights, and Doctors Without Borders.
During this period, she held the position of Chair for the Board of Canada's International Development Research Centre (until 1997) and served as President of the World Federalist Movement Canada. She continued her humanitarian efforts and, in 2007, founded Future Generations Canada, an aid group dedicated to improving Afghan education, healthcare, and agricultural projects. As a director of this group, she focused on the education of women in places like Afghanistan and helped create sustainable systematic changes to ensure steady development.
While undertaking her various humanitarian causes, Ms. MacDonald allocated time in hosting a television program, writing a book, and chairing an international development research center. In recognition of her work, she was sworn in as a member of the Queen's Privy Council for Canada on June 4, 1979, and thus earned the honorific titles of the post-nominal letters "PC" and the prefix "The Honorable". There is also a 400-boat harbour in front of Kingston's City Hall named the "Flora MacDonald Confederation Basin" in tribute to her, and a National Film Board film by Peter Raymond was made about her 1976 leadership bid, titled Flora.
Because of her many efforts, Flora MacDonald was named as a member of the Eminent Persons Group by the United Nations Secretary-General. Other formal achievements included being appointed Officer of the Order of Canada in 1992 and promoted to Companion of the Order of Canada in 1998. She was also made a member of the Order of Ontario in 1995 and of the Order of Nova Scotia in 2007. Her recognitions include as recipient of the Pearson Medal of Peace (2000), the Padma Shri (a civilian award from the Government of India) in 2004, the St. Andrew's Society of Toronto Scot of the Year Award in 2009, the Canada World Peace Award from the World Federalist Movement-Canada in 2010, the Canadian Queen Elizabeth II Golden Jubilee Medal in 2002 followed by the Diamond Jubilee in 2012, and a Lifetime Achievement Award by Maclean's magazine in 2014. Further, she was named Advisory Council member of the Dancer Transition Resource Center and an Ottawa footbridge over the Rideau Canal built on July 11, 2018, was named the "Flora Footbridge" in her honour.
Whether as a politician or humanitarian, Flora MacDonald inspired others to become involved in politics and in their communities.
Biography written by Hayley Apted
Sources
En.wikipedia.org. 2021. Flora MacDonald (politician). [online] Available at: <https://en.wikipedia.org/wiki/Flora_MacDonald_(politician)> [Accessed 27 January 2021].
CBC. 2021. Longtime politician Flora MacDonald dies at 89 | CBC News. [online] Available at: <https://www.cbc.ca/news/canada/toronto/flora-macdonald-longtime-politician-dead-at-89- 1.3168239> [Accessed 27 January 2021].
The Globe and Mail. 2021. Conservative Trailblazer Flora Macdonald Dies Aged 89. [online] Available at: <https://www.theglobeandmail.com/news/politics/conservative-trailblazer-flora-macdonald-dies-aged-89/article25714535/> [Accessed 26 January 2021].