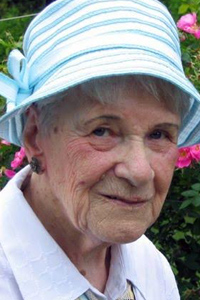 Felicitas Svejda
Women of Inspiration
Felicitas Svejda was a federal government scientist working in Ottawa who developed roses that could survive Canada's short growing season and bitter winter conditions. She was a research scientist at a time when very few females were working in the area of agricultural science, and as such she is an inspiration to young women contemplating a career in the sciences. Her legacy can be seen throughout Ottawa and across Canada where roses first developed by Felicitas Svejda add colour and beauty to countless flower gardens.  Today, many of her roses also thrive in Finland, Russia, Iceland, Germany, and Austria.
Dr. Felicitas Svejda was born on November 8, 1920 in Vienna, Austria. She obtained her Ph.D. in agricultural science in 1948 from the University of Natural Resources and Life Sciences (Hochschule fur Bodenkultur) in Vienna. When she moved to Canada she worked for the federal government's Department of Agriculture (now Agriculture and Agri-Food Canada) in Ottawa as a statistician in the cereal division from 1953-1961 before accepting the position in ornamental plant breeding. She led the rose-breeding program at the Central Experimental Farm in Ottawa, for nearly 25 years. In 1968, she launched the first national trial of ornamental shrubs in Canada whereby she sent her roses and other plants to locations across North America to test their survival rates in local climates. The resulting Explorer Rose Series that includes 25 different varieties was released between 1968 and 1999.
Dr. Svejda named the Explorer Rose Series in honour of Canadian explorers (Alexander Mackenzie, Captain Samuel Holland, Champlain, Charles Albanel, David Thompson, De Montarville, Frontenac, George Vancouver, Henry Hudson, Henry Kelsey, J.P. Connell, Jens Munk, John Cabot, John David, Lambert Closse, Louis Jolliet, Marie-Victorin, Martin Frobisher). Today, these roses have become the most popular cold-hardy roses in the world.
Felicitas Svejda received several awards and recognitions during her career. She received a certificate of merit from the Royal National Rose Society of Great Britain (1985) and the Canadian Ornamental Plant Foundation (1999); the prestigious Gold Medal of Portland (2004); and, an honorary Doctorate of Science from York University, Toronto (2000) for her scientific career and contributions to ornamental horticulture. She was also the honorary patron of the Canadian Rose Society.