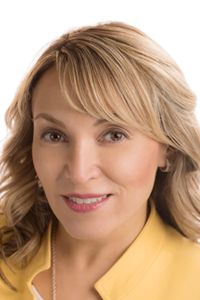 Dr. Rouba Fattal
Community Pillar
Dr. Rouba Fattal is a woman of intelligence and an outstanding volunteer. She holds a PhD in political science, is a full-time public servant, and a part-time professor at the University of Ottawa and Carleton University. In her community of Kanata-Carleton, she volunteers as the Director of Outreach for the Trailwest Community Association; as a Neighbourhood Watch Coordinator for the Ottawa Police Services; for the Kanata Food Cupboard 'Unload the Buses' event; for Canada Day in Kanata; and for the Ottawa Public Library in Beaverbrook-Kanata where she organizes free workshops for seniors on internet and social media literacy, helping them to overcome loneliness and to connect them with their loved ones.
Dr. Fattal works closely with Canadians of all backgrounds, addressing social challenges. Her recent efforts have been focused on poverty alleviation and homelessness. She is a Board Director at the Western Ottawa Community Resource Center (WOCRC) that runs Chrysalis House (a women's shelter in the West of Ottawa) and is Chair of the Board Development Committee at the WOCRC, advocating for affordable housing within the community. She is also a Board Director at the Kanata Food Cupboard and is Chair of its Governance Committee.
Her many volunteer initiatives promote inclusivity, diversity and empowerment of women as well as youth and children with Post Traumatic Stress Disorder (PTSD). She learned the importance of giving back to one's community soon after immigrating to Canada from Syria as a teenager when a friend asked her to volunteer at the Salvation Army. It was her first volunteer experience and she discovered that altruism not only felt good but that magic happens when people come together to serve others. It was a defining experience for her that transformed into purpose. She has volunteered as a Board Director for the Rotary Club of Ottawa, where she organized a mega fundraising reception; and, a multicultural music night with the Christ-Church Cathedral raising over $74,000 that went into sponsoring two refugee families in Kanata.
Rouba Fattal is also a community innovator and a proponent of a new model of grassroots activism that promotes self-empowerment through commercial enterprises. She founded the Kanata-Carleton Small Business Network (KCSBN) in 2015 and has been its Chair to date. KCSBN is a not-for-profit organization dedicated to promoting local small businesses by connecting them to each other, to the community and to valuable resources. Some of KCSBN's services include an annual Fair, monthly workshops with expert speakers, a youth entrepreneur program, a mentorship program, social media platforms, free local business listings, and a community discount program.
Under Dr. Fattal's leadership, the Kanata-Carleton Small Business Network has experienced incredible growth. The rapid expansion of its membership is primarily due to Rouba Fattal's ability to leverage strong community partnerships and to fostering new initiatives for KCSBN (including a Newsletter and a local business Blog) that help stimulate start-ups, promote entrepreneurship, and provide local entrepreneurs of all ages and backgrounds with essential tools and inspiration to create sustainable jobs in the community.
Rouba Fattal's community work is central to who she is. In recognition of her community-building endeavours, she has received the prestigious RBC Top 25 Canadian Immigrants Award (2019) and the Welcome Ottawa Ambassador Award (2019).