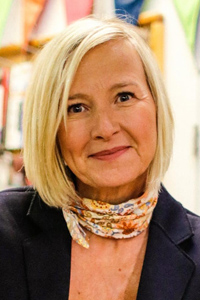 Bettina Vollmerhausen
Women of Inspiration
Bettina Vollmerhausen demonstrates leadership by balancing vision with compassion, exemplifying commitment to her projects, and inspiring those around her. She cares about and focuses on connections – connecting people, organizations, resources, finances and – most importantly – values.
In 2014, a friend of Bettina Vollmerhausen was working on a home improvement project and lamented that he had to buy a tile cutter and the high cost of either purchasing the tool, that may only be used once, or renting it from a big-box store. Also of concern was the environmental impact of purchasing all these tools. His comment of wishing to "borrow it from the library" resonated with Ms. Vollmerhausen and sparked an initiative that led to the pair co-founding the Ottawa Tool Library (OTL), a local, non-profit organization.
Ms. Vollmerhausen was the driving force behind OTL, presenting pitches for micro-grants, procuring a space to house this new project, touring other tool libraries, and launching a crowdfunding campaign to get the OTL off the ground so that it could operate sustainably from the start. In October 2015, OTL officially opened its doors. Today, Bettina Vollerhausen continues to build and refine OTL operations with a primary goal of engaging and empowering the community to participate in the sharing of resources through access to tools and skills for everybody. Her guiding principles are access over ownership, promoting makerspaces, sparking creativity, and building community.
Since its launch the OTL has had over 1,700 members, housed over 2,000 donated tools, and has diverted over 2 tonnes of metal waste from landfill. Not only is Bettina Vollmerhausen the catalyst behind this community resource, but she is the visionary that has turned the OTL into the robust community hub that it is today – initiating projects like the OTL Repair Café series, opening an onsite WorkSpace, launching a new Tinkering School for kids, and more. Each of these additions to the OTL speak to Ms. Vollmerhausen's unique ability to listen to the feedback and ideas of community members and her commitment to finding creative solutions to community gaps and challenges. Due to Ms. Vollmerhausen's leadership the OTL received the BOBS (Best Ottawa Business Award) for Social Enterprise in 2017 and the Ottawa SALUS Community Partner Award for 2018-2019.
Through OTL, Bettina Vollmerhausen has created a welcoming, community space that continues to attract members and volunteers of incredible diversity – retirees looking for a fulfilling pursuit, newcomers developing their language skills, students looking for volunteer hours and hands-on learning, first-time homeowners, local contractors, and more. Moreover, Bettina has forged collaborations with local charities and non-profits like StopGap, re-Cycles, Ecology Ottawa, SALUS, LiveWorkPlay, Pinecrest-Queensway Community Health Centre's FutureBuilders, and Tungasuvvingat Inuit.
Furthermore, Bettina Vollmerhausen knows that what happens in Ottawa stretches beyond our city limits, and she is an avid believer in the power of knowledge sharing for sustainability. She actively collaborates with other tool libraries across the country and around the world to foster a network of community-builders, environmentalists and makers.
Everything that Bettina has given to Ottawa and everything she puts into the OTL is about identifying a challenge or gap and working collectively, collaboratively and creatively to build connections that will solve that problem in an inclusive and meaningful way. She listens, synthesizes and engages. She connects the dots – the purpose, the people, and the resources – then commits and invites others to join; catalyzing change, rallying behind a value centred project. Bettina is making Ottawa a better place for all, one connection at a time.