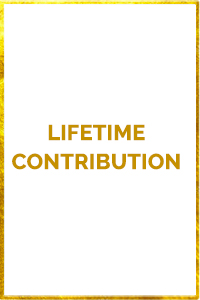 Alma Suzanne Norman
Lifetime Contribution
Alma Suzanne Norman was a transformational educator and an advocate for social justice.  A moving spirit of the Ottawa Raging Grannies and veritable force of nature, she spent a lifetime challenging boundaries, fighting injustices, and getting into good trouble.
Born in New York City in 1923, Alma Norman attended New York's Hunter College High School. At age 16, she enrolled at the University of Vermont where she earned her B.A. During the Second World War, she immigrated to Canada and pursued her graduate studies in Montreal receiving an M.A. in History from McGill University and a High School Teaching Certificate from the Province of Quebec.
In 1951, she moved to Jamaica and then returned to Montreal in the mid-sixties prior to settling in Ottawa, where she lived for over 50 years.
Ms. Norman was a profound believer in the power of protest to bring about social change. Creative and fearless, she began her journey of social activism at the young age of 15 and remained keenly involved until her death at age 97. In 1990, she helped revive the Ottawa chapter of the Raging Grannies, an activist group of older women who challenge authorities and stereotypes and bring about change through unique approaches to activism. Ranging in ages from 40 to 97, the majority of these Grannies have been actively involved in their communities for many years.
Through humour, outlandish hats, witty songs, and antics, Alma Norman was very engaged in drawing attention to important issues related to women's and human rights, peace, environment, and social and economic justice. She understood the power in drawing attention to the "cause" from media and spectators and engaged in an unending arsenal of stunts that was fueled by genuine caring, compassion, and commitment to mankind.  She helped transform anger and despair into creative rage while uniting with young persons in supporting their concerns. In many cases, she and her group of Grannies often helped diffuse situations while recognizing the associated risks of protests faced by weaponized authorities brandishing tear gas, rubber bullets, and the real threat of arrests.
Alma Norman was a doer who challenged stereotypes often associated with the elderly. She remained actively engaged as a citizen out of an enormous, personal sense of civic duty in spite of the challenges faced by health issues and diminishing energy. At age 94, she participated in the 2017 Women's March.
As a reflection of interest and academia in political activism by older women, Ms. Norman was featured in several articles and books.  Also, she was one of a group of women showcased in Granny Power! – a 2014 Canadian documentary by filmmaker Magnus Isaacson.
Her legacy continues to reverberate within Ottawa, Canada, and globally. She helped establish many groups and organizations including as co-founder of Ottawa's first women's centre in 1972 and of Interval House, Ottawa's first shelter for women fleeing abuse, which opened in 1976. Prior to moving to Ottawa, she was an educator whose impact transcended her classrooms. She was a lecturer in History at Shortwood Teachers' College, Senior Mistress at Calabar High School in Jamaica, and as an English and History teacher at Malcolm Campbell High School in Montreal. When the Caribbean was transitioning from colonialism to independence and shifting from a neocolonial education system, she wrote two books that had an enduring impact: the widely anthologized Ballads for Jamaicans in 1964; and The People Who Came Book 1, published in 1968 and considered a breakthrough in Caribbean history textbooks.
Ms. Norman, who broke stereotypes and barriers with tenacious energy and creativity, has made Ottawa and our world a much better place for all.
Sources: 
Ottawacitizen.remembering.ca. 2021. Remembering the life of Alma NORMAN. [online] Available at: <https://ottawacitizen.remembering.ca/obituary/alma-norman-1081022849> [Accessed 4 March 2021].
Grannypowerthefilm.com. 2021. Characters | Granny Power The Film. [online] Available at: <https://www.grannypowerthefilm.com/characters/> [Accessed 4 March 2021].
Roy, C., 2004. The Raging Grannies, Blazing a Trail of Humorous Protests. [online] Canadiandimension.com. Available at: <https://canadiandimension.com/articles/view/the-raging-grannies-blazing-a-trail-of-humorous-protests> [Accessed 4 March 2021].